Hurricane Hilary, the first tropical storm to hit Southern California in 84 years, has brought heavy rain, strong winds, and flooding to the region. But not everyone is worried about the storm's impact. Some people have taken to social media to share videos of themselves celebrating the hurricane in various ways, from dancing to swimming in the flood waters.
Why Videos of Black People Celebrating Hurricane Hillary are Going Viral
One of the most viral clips shows a person doing a split in the Hurricane Hilary flood water, that was shallow and also on concrete. The video, which has been viewed more than 30 million times on X, the platform formally known as Twitter, was captioned "Hurricane Hilary" with a flame emoji. Twitter user @munch4spice wrote "they out there in Hurricane Hilary acting a fool" in the post that made the videos trend. Many users commented on the video, expressing their admiration or disbelief at the stunt.
Other clips showed people just dancing for joy in the rain, doing Street Fighter's Ryu Hadouken type uppercuts through the water, while others show them playing a fun game where two people hold a long pole, while a third person tries to jump over it, and land in the flood water gracefully.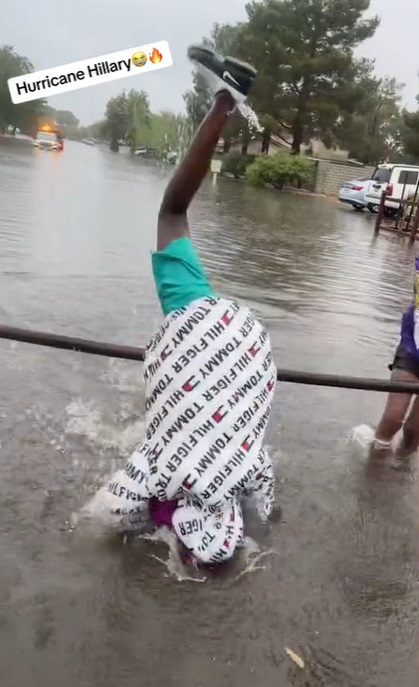 A Woman's Botched Backflip in Hurricane Hilary Celebration Videos Ruled Comment Sections
The most talked about moment from these videos you'll see below was the botched backflip. In one clip, a girl wearing a grey outfit tries to do a backflip, but lands hard on her back in the shallow flood water. There was a look of shock on her face when she hit the pavement under the flood water, but the camera cuts away before showing if she was okay.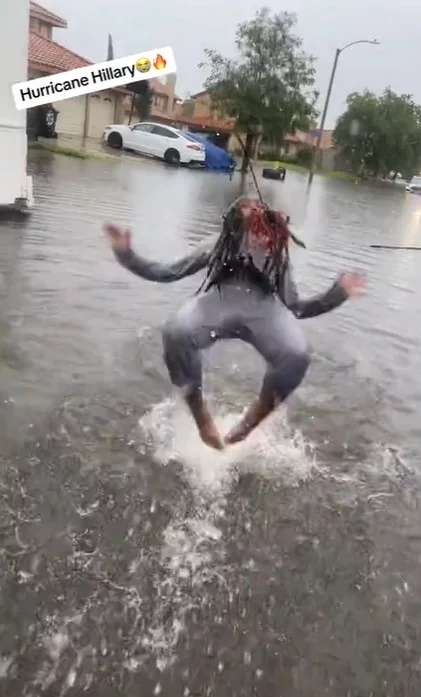 The Woman Who Swam Through Hurricane Hilary Flood Water
Another part of the viral video shows a woman swimming through the Hurricane Hilary flood water, right next to cars that could have contaminated the water with oil and other chemicals. In addition there is sometimes sewage and animal feces mixed in flood water. Many users expressed their concern, for the woman's risky endeavor.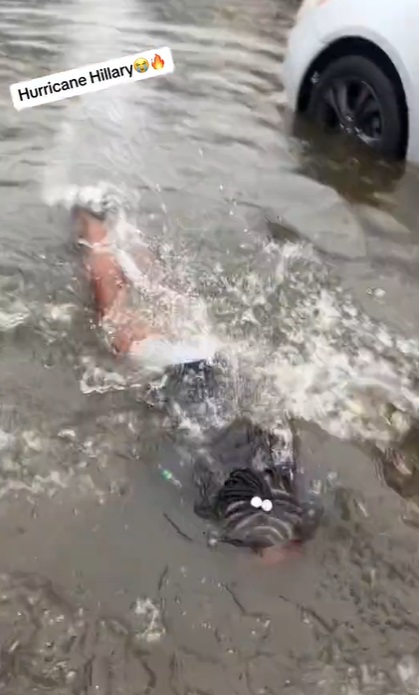 The videos of black people celebrating Hurricane Hilary have sparked a lot of reactions online, with some people finding them amusing or inspiring, while others finding them irresponsible or insensitive.
Some users have questioned why people are celebrating a devastating hurricane that has caused damage and disruption to millions of people.
The answer could be that people are trying to cope with the stress and uncertainty of the situation by finding joy in the moment.