A woman who goes by @_lexyssssss on Instagram posted screenshots of the text messages she got from her boyfriend Myles' ex-girlfriend asking for help with her child named Faith. The text message exchange sparked a heated debate online about the role and responsibility of women in complex family situations involving a baby mama from a past relationship.
The Text Message Exchange Between a Baby Mama Reaching Out to Her Child's Father's Girlfriend For Help
In the text messages, the ex-girlfriend asked Myles' current girlfriend if their kid could stay at her house. She mentioned that Myles told her that the kid can't stay, because it was her house and her rules. In the message, she said she was asking "woman to woman" for her to take care of the kid temporarily, because she was "struggling really bad".
Myles' current girlfriend responded saying that her kid couldn't stay there, because she didn't want to have any responsibility over a child that wasn't hers, and also didn't want to have responsibility for things that happened between her and Myles, before their relationship ended. She suggested that she should reach out to Myles' mother instead, and ask her to watch their child. She appeared to be using a very respectful tone throughout the whole exchange, despite the sensitivity of the matter.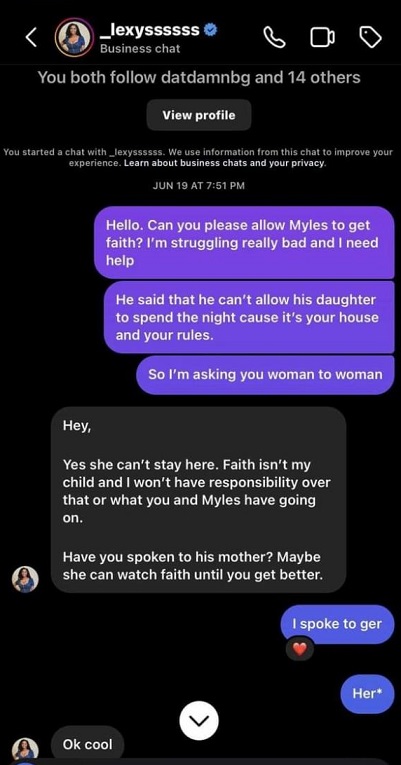 @_lexyssssss Responds to Backlash after Refusing to Help Her Boyfriend's Baby Mama with Their Kid with Rant about Women Being Front Line Providers Unfairly
After the text message exchange went viral, @_lexyssssss posted a long message on Instagram talking about how she feels that women are unfairly expected to be front line providers, even when they don't need to be.
She went on to explain that although she knows people might think her response was harsh and cold-hearted, she's still going to enjoy her life and travel, because she believes she worked hard to get to where she's at in life, while also not having kids before she was ready to completely dedicate herself to motherhood.
She ended her rant saying, "Once we as women, put our foot down and stop taking extra burdens, stresses, and possible harm etc.., we will all be in a better place especially with our standards".
The post received mixed reactions from social media users, but some people praised @_lexyssssss for being honest and standing up for herself. They conveyed that they also feel she was not responsible for the child, and that the woman should have asked Myles or his family for help instead of bothering his girlfriend.
Others have criticized @_lexyssssss accusing her of being insensitive and selfish. Her critics feel that should have helped the child, because it was not the child's fault that their parents were not together. They also said that she should have been more compassionate and understanding, and that she was setting a bad example for the child. Some also feel that Myles should have broken up with his girlfriend if she did not accept his child.
What do you think of this situation? Do you agree with the Myles' baby mama, or his current girlfriend?