When it comes to movies there are few actors more legendary then Denzel Washington due to his resume and experience, and with that experience comes a short temper for games. New reports are saying Denzel Washington dissed Jared Leto's method acting antics on set of their upcoming movie.
Denzel Washington and Jared Leto are starring together in the Little Things, and as per usual Leto is playing a sinister character. This time around he plays a psychotic serial killer.
Jared Leto is known for using method acting to get into character, but with him playing a serial killer Denzel Washington wanted no parts of him method acting around him on set.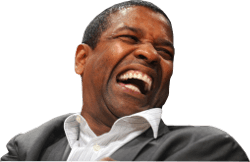 According to an alleged statement from Denzel Washington, him and Jared Leto were very distant on set, because of the potential of him attempting his method acting around him. It's alleged that Denzel Washington even threatened to confront Jared Leto if he did try his method acting antics at any point.
The Little Things is sure to be classic, and this new information only makes anticipation even greater.
Author: JordanThrilla