The beef between Sha'Carri Richardson and Jamaican athletes became a viral topic after she tweeted a comment saying, "Missing Me Yet" during the Tokyo Olympics, which many people felt was condescending towards female track athletes who were competing in the events she missed due to testing positive for Marijuana. That controversial tweet came at the same time Jamaican athletes such as Elaine Thompson-Herah were dominating the Women's 100m event with even faster times than hers, which led to accusations that Sha'Carri Richardson was taking shots a Jamaicans.
Details on How People Believe Elaine Thompson-Herah Dissed Sha'Carri Richardson During Tokyo Olympics
Back in July 2021 a moment during an interview where it seemed like Elaine Thompson-Herah dissed Sha'Carri Richardson went viral. During the interview in question Elaine Thompson-Herah said "no comment" to reporter Tyler Dragon when he asked if she was looking forward to racing against Sha'Carri Richardson, and also if she was disappointed she wasn't able to compete. Some people feel like she was possibly saying she didn't care about Sha'Carri getting banned.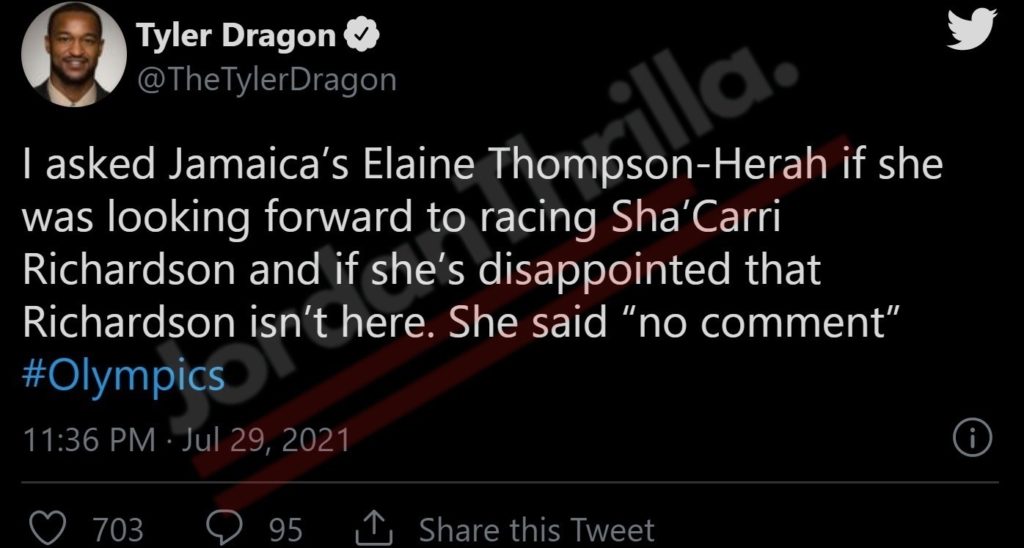 At the time Jamaican people responded to Sha'Carri Richardson's "miss me yet" comment by rubbing the Jamaican's athletes 100m results in her face. Jamaican athletes won the Women's 100m Heat 2, Heat 5, and Heat 7.
Now the two finally met up on the track, and the results were surprising.
Sha'Carri Richardson Gets Revenge by Beating Elaine Thompson-Herah to Win Luzern Athletics Meet
As you probably know Sha'Carri Richardson's performances in the months after her marijuana debacle were not up to par with her domination prior to the positive drug test. Due to that fact a large majority of people were expecting Elaine Thompson-Herah to win their matchup, but fate was not on her side on this day. In a very intense finish Sha'Carri Richardson beat Elaine Thompson-Herah to win the Luzern Athletics Meet by literally fractions of a second. Sha'Carri Richardson's official time was 11.29 seconds, while Elaine Thompson-Herah finished with 11.30 seconds. It was that close.
Sha'Carri Richardson can finally talk that talk again, because she proved herself on the track against one of the best Jamaican Athletes in her sport who is also an Olympic Champion. Can she go on another winning streak?