The apparent beef between Sha'Carri Richardson and Jamaican athletes has become a viral topic after she tweeted a comment saying, "Missing Me Yet" that seemed to be condescending to female track athletes who were competing at Tokyo Olympics. Since Jamaican athletes such as Elaine Thompson-Herah, Shericka Jackson, and Shelly-Ann Fraser-Pryce were dominating the Women's 100m event with even faster times than hers, it seemed like Sha'Carri Richardson was taking shots a Jamaicans, and all hell broke lose on social media.
The most standout moment was during an interview where it seemed like Elaine Thompson-Herah dissed Sha'Carri Richardson. The moment happened when Elaine Thompson-Herah said "no comment" to reporter Tyler Dragon when he asked if she was disappointed she couldn't race against Sha'Carri Richardson. Some people feel like she was possibly saying she didn't care about Sha'Carri getting banned.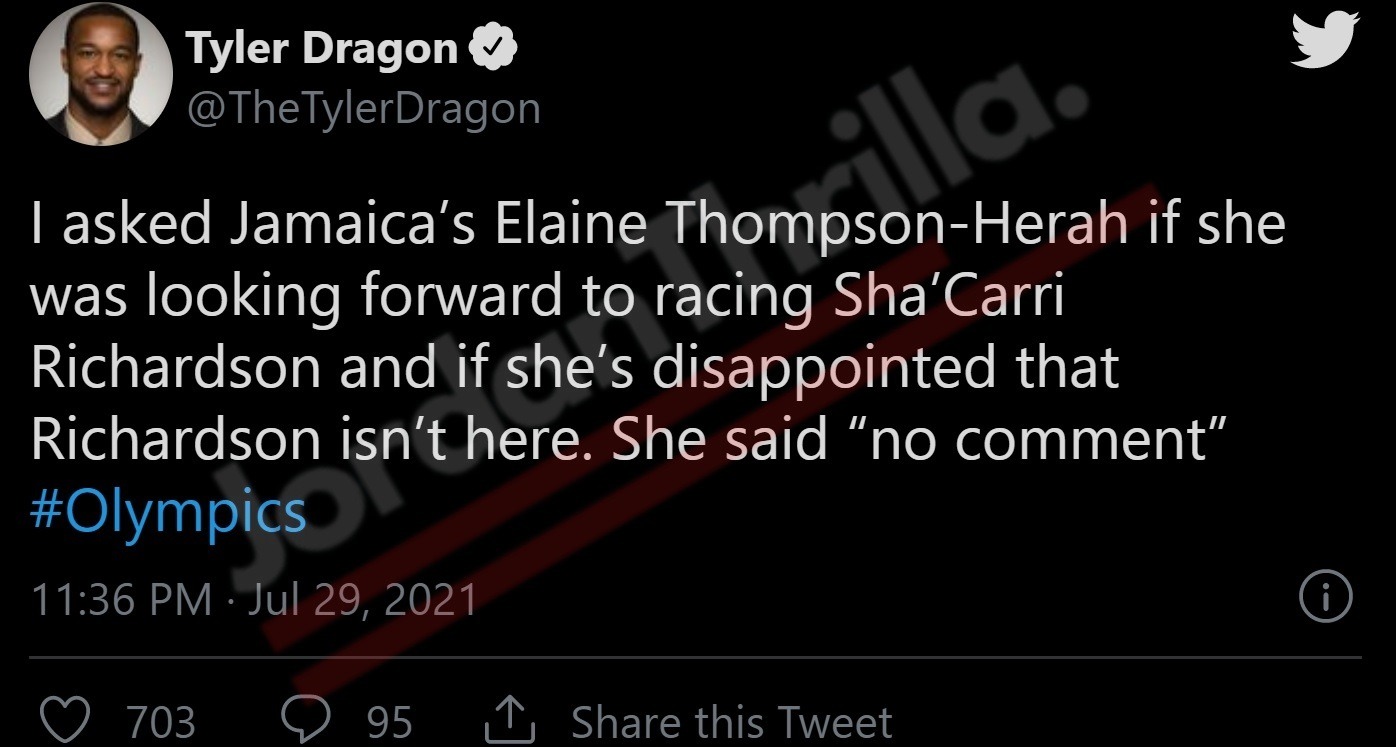 The next day Sha'Carri Richardson posted this tweet that would make her become a villain on social media to many people on social media.
Jamaican people responded to Sha'Carri Richardson's "miss me yet" comment by rubbing the Jamaican's athletes 100m results in her face. Jamaican athletes won the Women's 100m Heat 2, Heat 5, and Heat 7.
Sha'Carri Richardson may have let the support she was getting for smoking banned substance get to her head, because there was nothing humble about the comment she made. Ironically a lot of the support she was getting prior to that strange tweet was because people thought she was a very humble person. It seems Jamaican athletes and supporters along with other people are trying to give her a reality check.
It's not certain if Elaine Thompson-Herah is dissing Sha'Carri Richardson with the "no comment" remark, because she didn't explain the context. However, it definitely seems like it had Sha'Carri feeling some type of way.
The biggest take away from all of this drama is pretty simple, if you have an Olympics competition coming up it's probably smartest not to use a banned substance, even if it is legal to the general public.
Author: JordanThrilla Staff