A female fan who attended the Sixers vs Bucks game this past weekend got more than she bargained for when she spotted her boyfriend with another woman in the crowd. A video that went viral on social media shows the woman, who was wearing a very revealing outfit, yelling at the man sitting behind her. She accused him of cheating on her with the woman next to him, who looked shocked and embarrassed by the scene.
How the Female Fan in an Inappropriate Outfit Caught Her Boyfriend Cheating During Sixers vs Bucks NBA Game
Rumors on social media suggest that the woman had gone to the game with her friends, and had noticed her boyfriend on the big screen. She then confronted him, and caused a commotion that drew attention from other spectators. Some parents in the crowd tried to cover their children's eyes as they witnessed the woman's revealing attire.
The video also shows security guards trying to calm down the situation, and escorting the woman away from her boyfriend and his alleged mistress. The man did not seem to deny or explain his actions, but rather looked annoyed and frustrated by his girlfriend's outburst.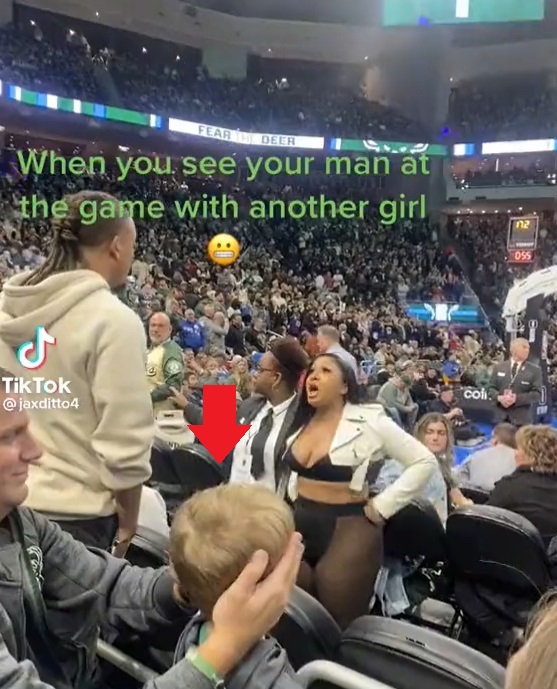 The video quickly went viral and got millions of views and comments on various platforms. Some people sympathized with the woman and praised her for confronting her boyfriend. Others criticized her for making a scene and dressing inappropriately for a basketball game.
This story is just another example of how you can never trust anyone these days. Cheating is never okay, and it always comes back to bite you in some way or another. If you're unhappy in your relationship, just end it instead of hurting someone else's feelings.
The Sixers vs Bucks game was a thrilling match that ended with a 133-130 victory for Philadelphia over Milwaukee. James Harden scored 38 points, 10 assists and nine rebounds for the Sixers, while Giannis Antetokounmpo had 34 points, 13 rebounds and four assists for the Bucks. However, for some fans, the relationship drama in the stands was more entertaining than the action on the court.