Recently Greta Thunberg had social media buzzing when she used the email address smalld*ckenergy@getalife.com while referring to Andrew Tate in a tweet. She was responding to him antagonizing her by bragging about how much emissions his luxury cars produce. His video response to her tweet was allegedly what spurred the string events that led to his arrest today.
Did Greta Thunberg Trick Andrew Tate into Self Snitching with Jerry's Pizza Boxes Before Human Trafficking Investigation Arrest?
Andrew Tate was wanted in Romania in connection to a human trafficking investigation. Apparently they were under the impression that he might not be in the country. However, according to reports it was his exchange with Greta Thunberg that confirmed with Romanian authorities that he was indeed still in their country. Essentially she got Andrew Tate to snitch on himself, which led to him being in jail right now.
After Thunberg's smalld*ckenergy@getalife.com tweet went viral it was inevitable that Tate would respond. He posted a video in which he was sitting at a table with "Jerry's Pizza" boxes in front of him. That pizza chain only operates in one place in the world. Yep, you guessed it Romania. Once the footage confirmed he was in the country Romanian authorities quickly went to the location seen in the footage, and arrested Andrew Tate along with his brother Tristan. Thunberg is being hailed a hero on social media. Take a look at how things went down, beginning with her tweet.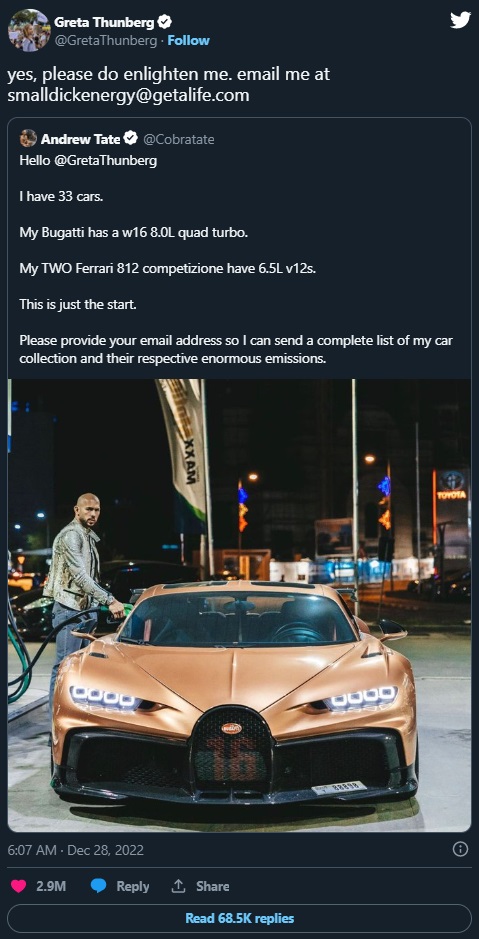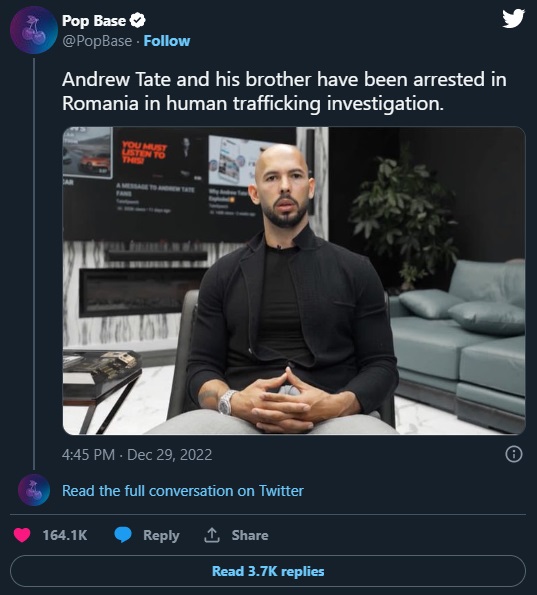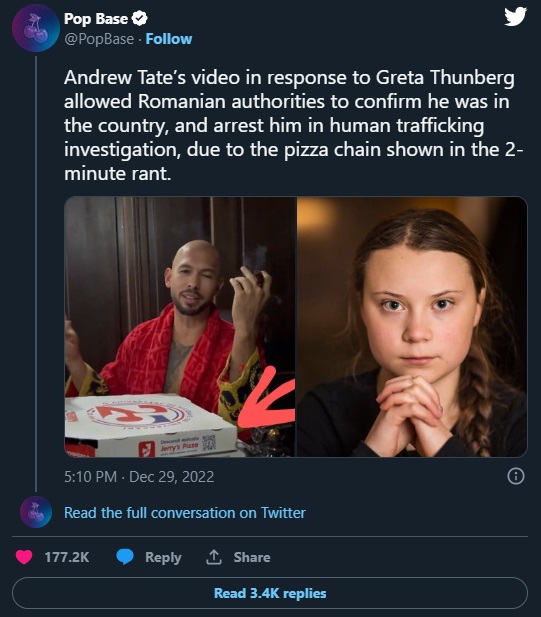 Greta Thunberg tricking Andrew Tate into self snitching, along with the fact it was some "Jerry's Pizza" boxes that tipped off the Romanian FEDS, makes this one of the most surprising celebrity human trafficking arrests in recent times.
Thunberg went from cleaning up the climate to cleaning up the streets by unintentionally helping police arrest potential criminals. Is there any she can't do?