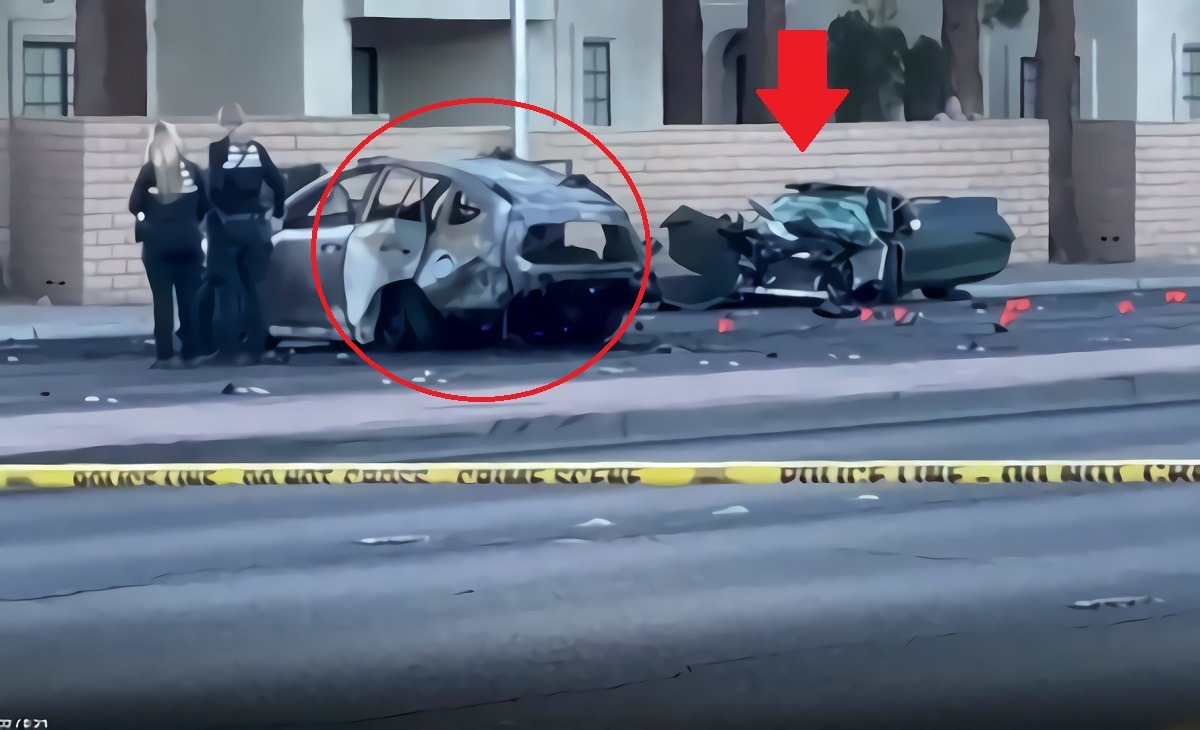 Scary news has hit the Football sports world. According to reports Raiders Wide Receiver Henry Ruggs was in a serious car crash in Las Vegas, and there were fatalities.
Is Raiders WR Henry Ruggs Dead or Alive? Details Who and How Someone Died in the Henry Ruggs Car Crash
According to police reports at 3:39 am this morning Henry Ruggs' Chevrolet Corvette collided with a Toyota Rav4 near the intersection of South Rainbow Boulevard and South Spring Valley Parkway in Las Vega. When emergency responders arrived the Toyota Rav4 was burning in flames with someone still inside the vehicle.
Video Aftermath of Henry Ruggs' Car Wreck in Las Vegas
Investigations concluded that Henry Ruggs' car collided with the rear of the Toyota Rav4, which caused gasoline to leak starting the fire that killed the passenger. Henry Ruggs was taken to UMC Hospital with injuries that are not life threatening. He survived the car wreck.
Below is the video aftermath of the Henry Ruggs car wreck. Based on the damage to his Corvette, Henry Ruggs was beyond lucky to survive this ordeal, but his life is about to change forever.
How Much Jail Time For Henry Ruggs' DUI Murder Charge?
Police reports state that cops found evidence that Henry Ruggs was on drugs when the accident happened. Details on if the drug was alcohol, or something else have not been stated. As result Henry Ruggs is being charged with DUI resulting in death. This means Henry Ruggs murdered someone by drinking and driving, although it was unintentional. The big question is how much jailtime does DUI resulting in death carry in Las Vegas?
Based on our research of the lawbooks in Nevada DUI resulting in death is considered a Felony punishable by up to 20 years in prison. Essentially Henry Ruggs is facing 20 years in prison at most, and 2 years in prison at least, if the charges hold up in court.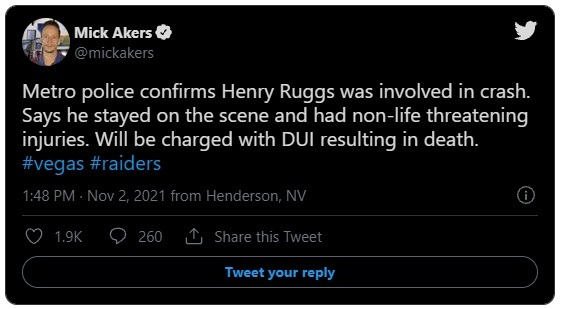 Henry Ruggs is only 22, but this could mean his NFL career is over already. In the short term it seems almost certain his season is over now. Unless he hires some really good lawyers that can prove he wasn't drunk or high at the time of the accident, there's a big chance he will be in jail for a long time, or at the very least the next two years.
Prayers up for everyone involved in this ordeal. RIP to the deceased driver of the Toyota Rav4. Drinking and driving is never a smart thing to do, and puts innocent people at risk.
Who would have guessed that midway into the season Henry Ruggs' DUI murder charges would shake up the Raiders franchise.
Author: JordanThrilla Staff