Which Rockets player slept with KJ Martin's girlfriend? That question is trending after former NBA star Kenyon Martin dropped a bombshell on his son KJ Martin's personal life, revealing that his ex-girlfriend cheated on him with one of his Houston Rockets teammates.
How KJ Martin's Girlfriend Was Caught Cheating with His Rockets Teammate in Bahamas
During a recent interview, Kenyon Martin shared some candid advice he gave to his son, who is in the beginning stages of his stint with the Sixers. He said he warned KJ Martin about the dangers of dating in the league, especially when it comes to trusting his teammates.
"I tell KJ, who's talking to a young lady before a couple years ago. I just see her around a little bit. Listen don't be surprised if she's f****** one of your teammates," Kenyon Martin said.
"He goes to the Bahamas with the team, they got a little team thing. He walks in the room, guess who in the room? The young lady and one of his teammates," Kenyon Martin said. He did not name the teammate or the girlfriend, but he said he was proud of how his son handled the situation.
Some people might say this situation is proof of why the saying that "keep your friends close and your enemies closer" sometimes isn't true, because in some cases your "friends" are your worst enemy. However, since those "friends" were actually your enemies you should have kept them closer, so the saying still holds merit.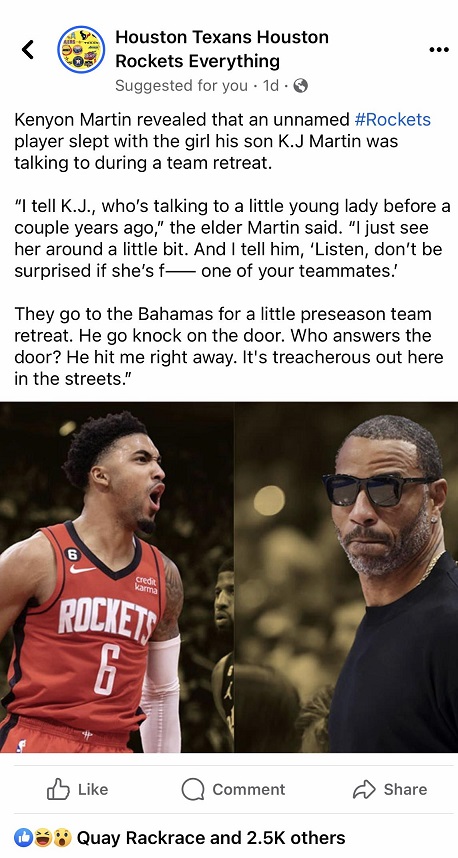 Which Rockets Teammate Did KJ Martin's Girlfriend Cheat With?
The shocking revelation has sparked a lot of speculation and curiosity among NBA fans, who are trying to figure out which Rockets player was involved in the scandal. Some have pointed out that KJ Martin was traded from the Rockets to the LA Clippers, and wondered if the situation had anything to do with his departure from Houston.
Others have commented that the situation is proof that even your own teammates will betray you in the NBA, and that loyalty and trust are hard to come by in the league. Kenyon Martin, who played 15 seasons in the NBA and was an All-Star in 2004, said he has seen a lot of similar incidents during his career, and that he tries to teach his son the lessons he learned from his own experiences.
KJ Martin, who was drafted by the Rockets with the 52nd pick in the 2020 NBA draft, is averaging 10.3 points and 4.7 rebounds per game this season for the 76ers. He has not publicly addressed his father's comments or his ex-girlfriend's affair.
Situations like these make it clear why the Rockets have been such a bad team over the past several years. They had no true chemistry on or off the court. It seems ironic that they hired Ime Udoka considering he slept with the wife of someone he worked with in Boston.