Victor Wembanyama, the 2023 No. 1 overall pick by the San Antonio Spurs, has been turning heads with his exceptional skills and versatility in the preseason. The 7-foot-4 center, who has been compared to a guard in a big man's body, displayed his impressive ball-handling ability on Wednesday night against the Houston Rockets.
How Victor Wembanyama Nutmegged Reggie Bullock and Possibly Made History
With around two minutes left in the first quarter, the Spurs lost the ball after a turnover, but Wembanyama quickly recovered it after the Rockets threw the ball up court. He then dribbled the ball through the legs of Rockets swingman Reggie Bullock, a move known as a nutmeg, and made a behind-the-back pass to his teammate Charles Bassey, who drew the foul.
The play was met with awe and admiration by the commentators and fans, who praised Wembanyama's creativity and flair. It might be the first time that an over 7-foot player pulled off a nutmeg move in an NBA game, a feat that is usually reserved for smaller and quicker players.
Wembanyama's nutmeg move drew comparisons to Spurs legend Manu Ginóbli, who was known for his crafty and unpredictable style of play. Ginóbli often used the nutmeg move to embarrass his defenders and create scoring opportunities for himself or his teammates.
Wembanyama has been receiving high praise from his coach Gregg Popovich, who said he called only one play for him all night, and he still managed to score over 20 points in their previous game against the Miami Heat. Popovich also said he would not talk bad about Wembanyama, or any of his players. There's not much bad you can say about an 7 feet 4 inch player doing nutmegs.
This is definitely going to be a historical picture one day.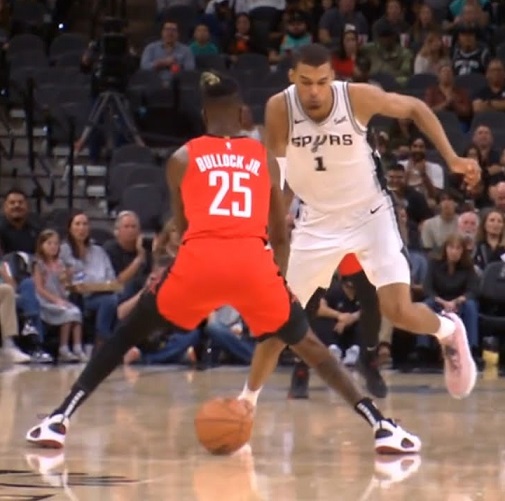 Wembanyama is expected to make a huge impact in his rookie season, as he has shown that he can do it all on both ends of the floor. He has the potential to be a transformative player in the NBA, as he challenges the conventional expectations of what a big man can do.
Wembanyama makes his official debut on Oct. 25 against the Dallas Mavericks.