Draymond Green is no stranger to controversy. The Golden State Warriors forward has been involved in several on-court altercations, technical fouls, and suspensions throughout his career. But his latest incident may have crossed the line, if it wasn't crossed before.
The Dangerous Sneak Chokehold Seen Around the World
On Tuesday night, the Warriors faced the Minnesota Timberwolves in the second round of the NBA In Season Tournament, a new format that allows teams to compete for bragging rights and $500K, and a free trip to Vegas. The game was tense and physical, with both teams exchanging leads and fouls.
The situation escalated only a few minutes into the game, when Warriors guard Klay Thompson and Timberwolves forward Jaden McDaniels got into a heated confrontation. In the process of all this Klay Thompson jersey was torn off Hulk Hogan style. As the players were separated, Timberwolves center Rudy Gobert tried to intervene and calm things down.
Mr. tough guy aka Draymond Green had other plans. He came up behind Gobert and put him in a chokehold, reminiscent of a UFC move. Gobert struggled to free himself, while Green held on tightly. You could see Gobert fall to the ground to catch his breath after Green finally let go. The referees quickly reviewed the play and ejected Green for a flagrant 2 foul, while Gobert received a technical foul.
Is Draymond Green Antonio Brown Now?
Green's reaction to his ejection was even more shocking. In the past when he got ejected he would taunt fans, who booed him loudly, and mimicked Antonio Brown's infamous walk-off from the Tampa Bay Buccaneers. We all saw how he laughed and jumped around the arena, as if he was proud of his actions when he was ejected in the past. However, this time you could tell that Green knew he messed up, because he walked off the court real quick.
After the dangerous chokehold on Rudy Gobert went viral, Green's behavior drew comparisons to Antonio Brown, the former NFL star who quit his team in the middle of a game, after a dispute with his coach. As you probably remember Brown took off his jersey and ran across the field, waving to the fans, which sparked memes.
Antonio Brown reacted to the latest incident with a tweet saying "Draymond Green is Antonio Brown". That could be implying that they were both misunderstood and mistreated, or that they are both crazy depending on how you interpret it.
Many people on social media agreed with Brown, and thought it was funny that he was so self-aware that he didn't mind disrespecting himself by comparing himself to Green, who seemed mentally unhinged at the moment.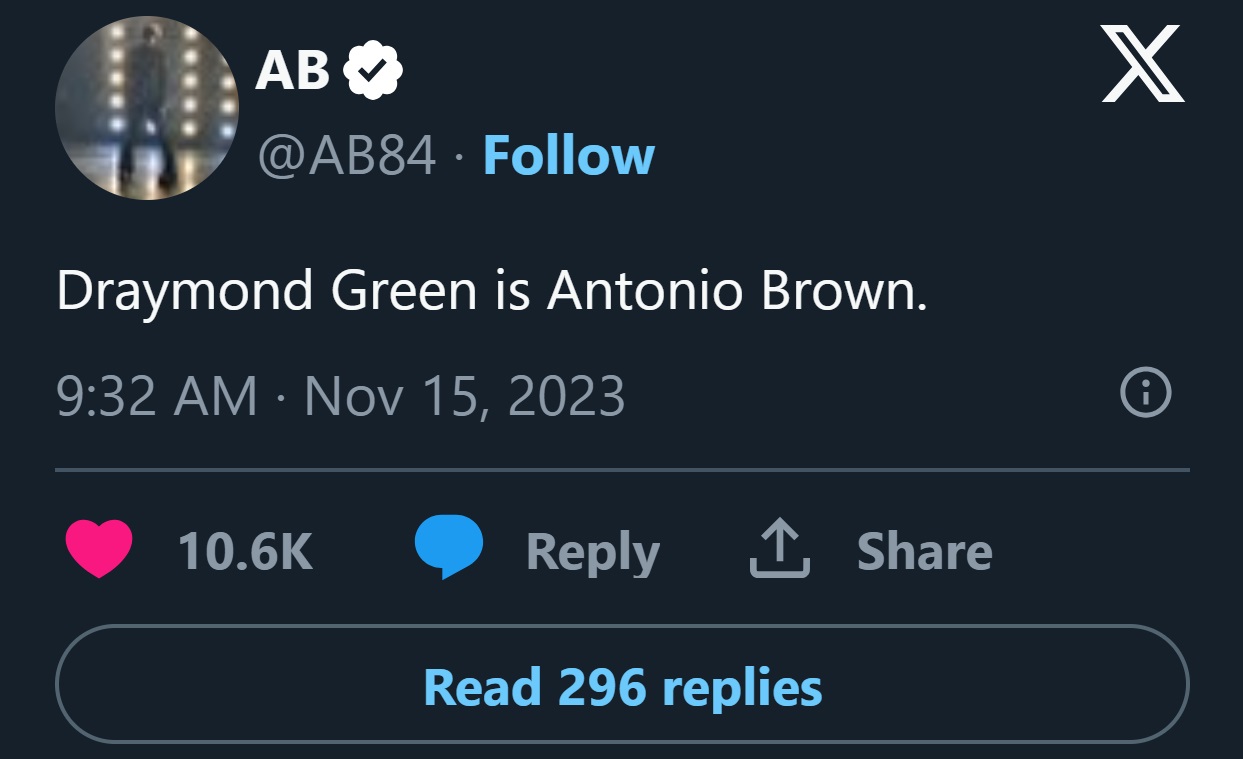 Will Draymond Green Get Suspended for 10 Games for Choking Rudy Gobert?
Not everyone was amused by Green's antics. Some NBA analysts said that Green was out of control and needed to be suspended by the league. They argued that his chokehold on Gobert was dangerous and unacceptable, and that he showed a lack of respect for the game and his opponents.
On First Take Jay Williams explained why he thought Draymond Green would get a 10 game suspension. Stephen A. Smith shocked him by claiming he should get 2 or 3 game suspension.