In the sports world athletes have to deal with words being put in their mouths all the time. One the biggest culprits of that are media agencies finding quotes online, and not doing the proper research to confirm if the words are real before reporting on it nationally. A famous Twitter page whose mantra is satire based off how easy misinformation spreads, may have got ESPN caught red handed putting words in athlete's mouth again.
Did Kendrick Perkins and ESPN Get 'Sacked' by Ballsack Sports? ESPN's Fake Ja Morant Quote Goes Viral
Ballsack Sports is a Twitter page dedicated to showing people how easy it is to create a fake quote, and make people believe an athlete said it. Believe it or not, there's a special art to it which requires small artistic nuances. For example you can add a high quality NBA team logo to a picture of player, then add a fancy font for a quote, and many people will believe whatever you wrote is what the player said.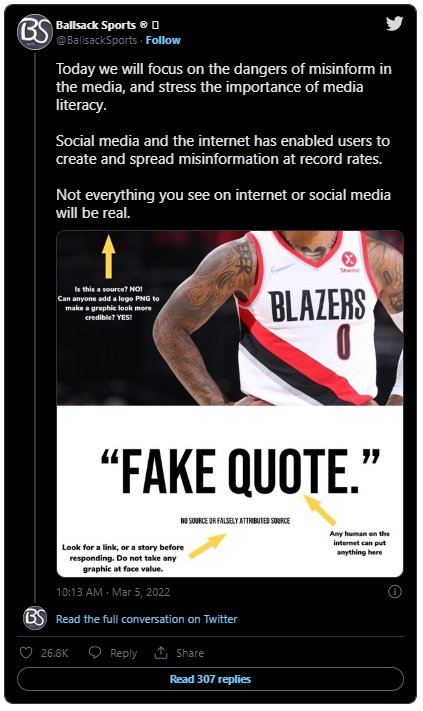 Over the years Ballsack Sports has stayed true to the advice it gives people on avoiding being misled by fake quotes by making fake quotes of their own using the same techniques they instruct people to keep an eye out for. Multiple times national media agencies have fallen for these fake quotes, and run stories based off them. When that happens people say the media company or reporter got 'sacked by Ballsack Sports'. The most recent example was ESPN's coverage of the story involving Ja Morant and some comments he made about Michael Jordan.
ESPN reported that Ja Morant said this, "If you put Michael Jordan in today's game he's just another superstar. You have me, Stephen Curry, Luka Doncic, Damian Lillard, Trae Young, and then guys like Lebron James, Kevin Durant, Giannis Antetokounmpo, and Kawhi Leonard. It's not just about one superstar, and bunch of average guys". During the show ESPN claimed that the source of this quote was Bleacher Report. However, that was a stretch of the real truth.
That entire fake Ja Morant quote was created by Ballsack Sports, and ESPN apparently never checked to confirm whether it was real or not. Essentially Kendrick Perkins and ESPN got sacked by Ballsack Sports again, putting their credibility in jeopardy once again.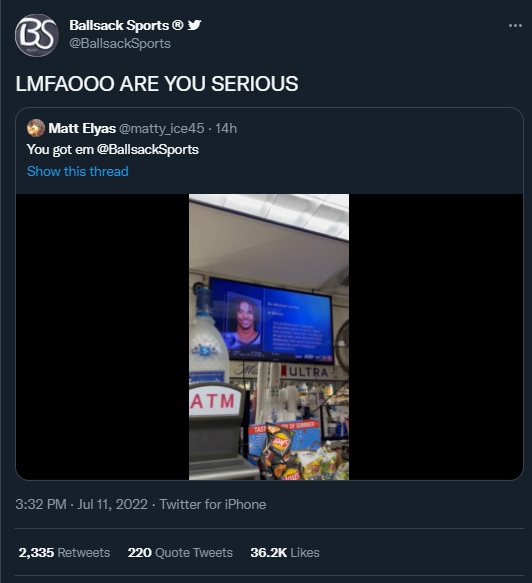 Social media couldn't believe how Ballsack Sports influenced ESPN's fake Ja Morant quote coverage, and the roast session began.