Houston Rockets guard Kevin Porter Jr. was arrested in New York City on Monday for allegedly assaulting his girlfriend, former WNBA player Kysre Gondrezick, police sources told ABC News. Porter, 23, is expected to be charged with second-degree assault and strangulation, according to NBC News.
The incident allegedly occurred at the Millennium Hotel near Times Square, where Porter and Gondrezick were staying. According to NBC News, the incident began after both had been out, she later returned to the hotel room and he got locked out. That's when the incident escalated, the sources said.
Gondrezick was taken to the hospital with at least one broken bone and bruising after the alleged attack, NBC News reported. The sources did not specify which bone was broken. A preliminary police investigation showed that Porter choked Gondrezick by putting his hands around her neck, and hit her body multiple times, NBC News added.
Hotel security alerted police, who arrested Porter at the scene. He was taken to the 17th Precinct in Midtown Manhattan, where he remains in custody as of Monday evening.
Porter's arrest comes after he pleaded guilty to a misdemeanor charge of improperly handling a firearm in a vehicle in Ohio, about 2 years ago. He was sentenced to two years of probation, and 50 hours of community service in that case.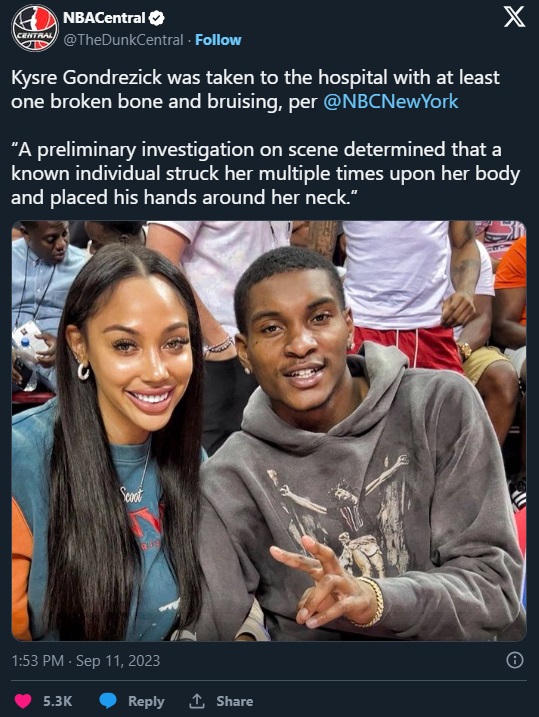 Porter could face a lengthy suspension from the NBA if he is found guilty of domestic violence. The league has a policy of conducting its own investigation and imposing disciplinary measures for such incidents, regardless of the outcome of the criminal matter.
In April, the NBA suspended free agent forward Miles Bridges for 30 games without pay as a result of a domestic violence incident involving the mother of his children that occurred in June 2022.
Bridges pleaded no contest to a felony domestic violence charge, and the remaining counts against him were dismissed.
The league deemed Bridges would get credit for 20 missed games as part of the suspension since he missed 82 games last season. That means Bridges will only miss the first 10 games of the season for Hornets this upcoming year.
This means Kevin Porter Jr's career might not be over if he doesn't have to serve jail time, but he would likely miss a good portion of the upcoming season. However, if you remember he had that incident with the Cavaliers where he allegedly went crazy in the locker room, which forced the Cavaliers to trade him, so his reputation in the NBA already wasn't good.