Chris Paul, the star point guard of the Golden State Warriors, has been accused of trying to intentionally injure Mike Conley's legs during a game against the Timberwolves on Sunday. The incident occurred when Paul dove straight into Conley's leg while chasing a loose ball. Conley, who had been playing well, fell to the floor in pain. He was able to continue, but his leg was visibly sore.
Did Chris Paul Intentionally Dive into Mike Conley's Leg?
Many fans and analysts who watched the replay of the incident were convinced that Paul saw Conley's legs before deciding to dive for the ball, knowing that he would make contact with him. They argued that Paul broke the unwritten basketball rule of never diving into a player's legs, which could cause serious injuries such as torn ligaments or broken bones.
They also pointed out that Paul has a history of questionable plays, such as poking opponents in the eye, hitting them in the groin, or flopping to draw fouls.
As you'll in the short clip below, it appears that Chris Paul stares at Mike Conley's leg before diving towards it. In addition you can see CP3 brace his own body in way that would avoid injuring himself, but potentially do even more damage to Mike Conley when he made contact. It was almost as if Chris Paul intentionally did a slight barrel roll in mid-air, just so his back would crash into Mike Conley's lower leg.
Dirty play, or basketball play?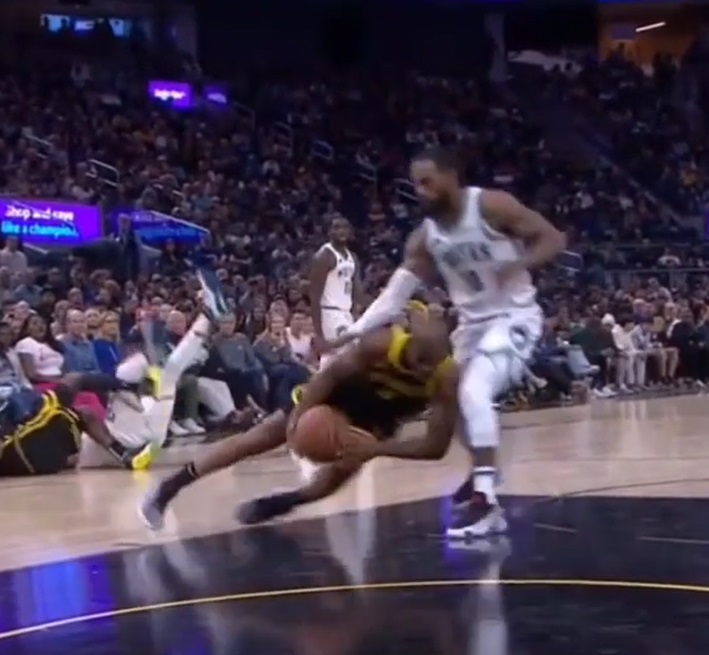 Some people on social media are now calling the Warriors the most unlikable team in the NBA, because they have two of the most unlikable allegedly dirty players in Draymond Green and Chris Paul. Green, who plays power forward for the Warriors, is also known for his physical and sometimes reckless style of play, which has led to him kicking, hitting, or tripping opponents in the past. He has also been fined and suspended several times for his actions.
Paul and Green have both defended themselves in the past against the accusations of being dirty players, saying that they are just playing hard and trying to win. They have also received support from their teammates and coaches, who have praised their competitiveness and leadership. However, their critics have not been convinced, and have continued to call them out for their behavior.
The NBA has not issued any statement or punishment regarding the incident between Paul and Conley, as of the time of writing this article. It is unclear if they will review the play and take any action. The Warriors have struggled to start the season with all their core players looking old and washed up besides Stephen Curry. Perhaps Chris Paul is frustrated about his new bench role, and took it out on Conley's leg.