The Dallas Mavericks have an unprecedented 3-2 lead on the Clippers after winning Game 5 100 – 105, and it came with historical context. Luka Doncic's Play-by-Play stat sheet is going viral after he literally scored or assisted on almost every point Mavericks scored.
Play-by-play stats show Luka Doncic scored or assisted on 31 of 37 field goals made by Mavericks. When you looked at the actual stats on paper it looks like spam or a glitch, because you see the name "Luka" over and over again.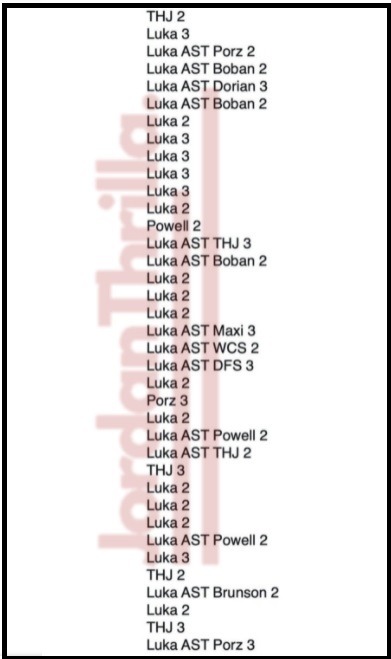 The video below is the final assist on the incredible Luka Doncic Play-by-Play stat sheet (Luka AST Porz 3). Fittingly it was an assist to his running mate Kristaps Porzingis.
What makes this performance from Luka so incredible is the fact that he is playing through a neck injury, and is clearly laboring around the court at times. If you got a dollar for every time he winces in pain during games this series you would be rich.
Last year Luka Doncic came close to what he is trying to do this year in eliminating the Clippers much earlier than most people expected. With Clippers having the much more talented team on paper, Luka is literally doing everything to offset those advantages, and he's living up to the challenge. There's only one other player that you could see doing what he is currently doing, and that's Lebron James.
Author: JordanThrilla Staff