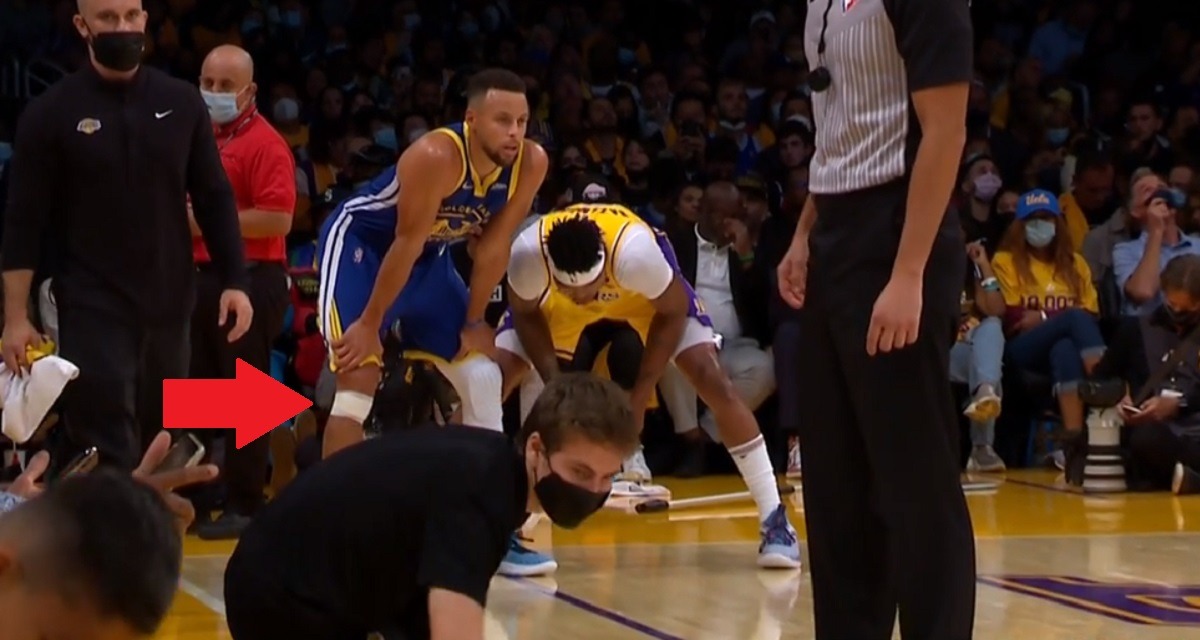 In the first game of the 2021-22 NBA season, Stephen Curry had an injury scare similar to what happened to him in the playoffs in 2016. An unlucky string events led to what was almost a season ending injury, but luckily he would escape the accident with makeshift brace around his knee.
Stephen Curry Slips on Drink in Front Floyd Mayweather Injuring His Knee
The dangerous play happened on a corner three where the momentum of Rajon Rondo closing out caused Stephen Curry to take steps back. In the process his heel knocked over someone's cup, which made the floor a hazard. As he attempted running forward, Stephen Curry slipped on the drink spill, and injuring his MCL ligament in the process. The incident happened right in front of where Floyd Mayweather and his family were sitting.
In the aftermath, the Warriors doctor put sports tape around Stephen Curry's knee, as the arena staff was cleaning up the unexpected mess.
Looking closely at the moment Stephen Curry slipped on the drink spill, you can see how far his knee bent out of place, and how much it torqued his MCL. That's probably going to swell up on him tomorrow.
This could be a case of Deja Vu, because Stephen Curry injured his knee slipping on the court during the Warriors vs Rockets playoffs series in 2016.
Warriors' medical staff putting sports tape around Stephen Curry's MCL injury is clear indication he was feeling some type of discomfort. Hopefully it doesn't turn out to be anything worse when doctors take a closer look after the game.
Warriors have been plagued by so many injuries over the past few seasons, it has to be nerve wrecking having an injury scare to Stephen Curry this early in the season.
Author: JordanThrilla Staff