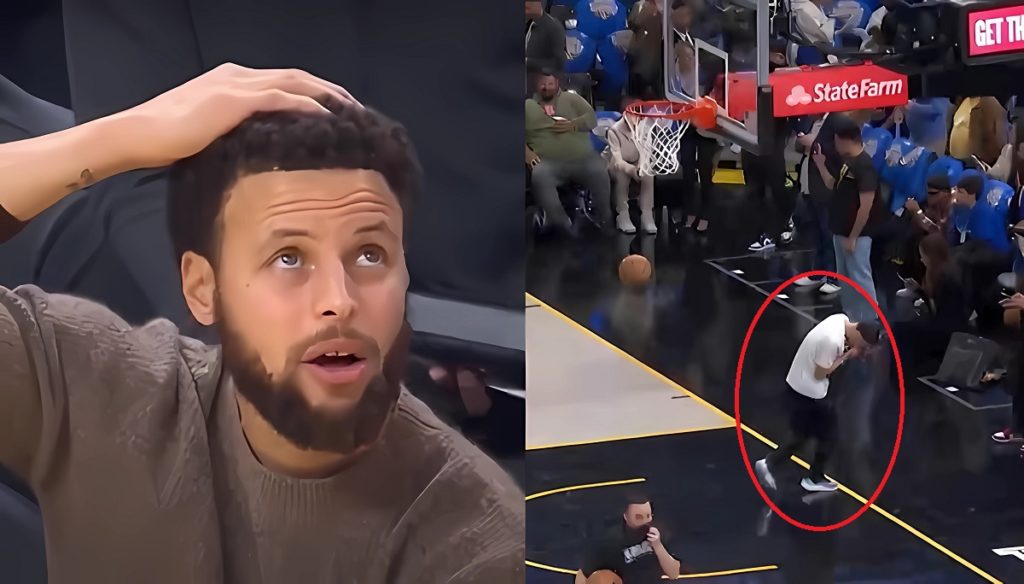 Stephen Curry is known for his amazing shooting skills and his pregame ritual of attempting a full court shot from the tunnel. On Saturday night a miss that resulted in an unfortunate accident for a ball boy, showed how dangerous his routine can be for bystanders.
How Stephen Curry Hit a Ball Boy Almost Knocking Him Out
The incident happened before the game between the Golden State Warriors and the Milwaukee Bucks at Chase Center. Curry launched one from his own tunnel to the far side of the court, but the attempt came up short and thudded into a ball boy under the basket flush on head.
The video of the mishap quickly went viral on social media, with many fans expressing their concern for the ball boy. The Warriors star allegedly was shocked and apologetic after realizing what happened.
Thankfully, the ball boy seemed to be relatively okay, and apparently did not suffer any serious injury. However, it did look like his glasses got knocked off his face and possibly cut him, because he was holding his face for awhile after the impact. Considering how far Curry throws the ball on those trick shots, the ball boy is lucky he didn't get knocked out. Hopefully they tested him for concussion symptoms.

Curry redeemed himself on the court, scoring 36 points to lead the Warriors to a 125-116 overtime win over the Bucks. 20 of his points came in the final 7 minutes of the game. In reality Warriors got extremely lucky that Jrue Holiday turned the ball over at the end of regulation when it seemed like Bucks had the win secured.
Hopefully that ball boy doesn't have an ingrained hate towards Stephen Curry after the horrific accident. If he takes the situation in stride it's an amazing story he can laugh about someday. It will be interesting to see if Curry will continue to entertain us with his incredible tunnel trick shots. If he does maybe he should be a little more careful next time. Imagine if he had hit a senior citizen.