Why was Floyd Mayweather vs Logan Paul cancelled until further notice? The reason is very shocking considering the star power of these two superstars.
The Logan Paul vs Floyd Mayweather was supposed to take place on February 20, 2021. This match was seen as Floyd Mayweather getting revenge for Nate Robinson to many. He was one of the people who spoke out in support of him after the knockout loss to Jake Paul.
However Floyd Mayweather vs Logan Paul is cancelled until an unknown date, because people simply aren't interested. Even though the pay-per view event is being listed at a discount price of $24.99 the sales have been so poor that the two parties decided it was best to postpone the fight indefinitely.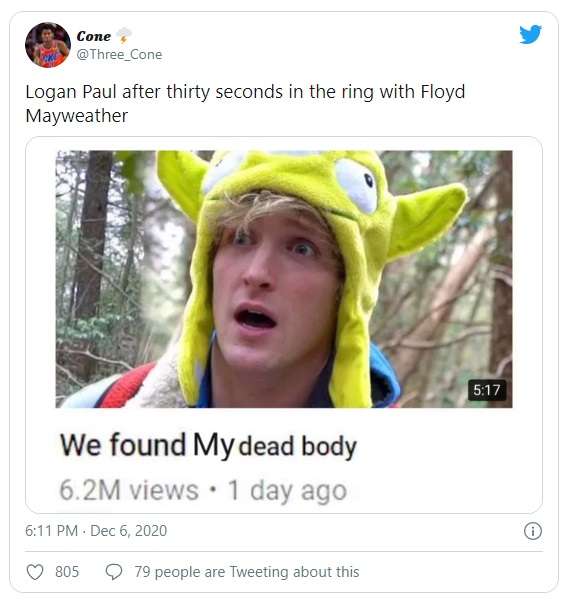 The cancellation is being attributed to the hard financial times that people are going through due to the COVID-19 Pandemic. It's believed that most people saw this match as a clown show and severe mismatch in terms of Floyd Mayweather taking on an opponent who shouldn't even be in the ring with him.
That's surprising when you look at these facts about Floyd Mayweather and Logan Paul.
Floyd Mayweather is 43, and Logan Paul is 25. That means Mayweather is 18 years older than his opponent, nearly twice his age.
Logan Paul weighs in around 200 lbs., and Floyd Mayweather weighs in around 150 lbs. Logan Paul has a 50 lbs. weight advantage on Floyd Mayweather.
During his career Floyd Mayweather easily beat opponents that had massive weight advantages over him, such as Canelo.
Floyd Mayweather is 5′ 8″, and Logan Paul is 6′ 2″. This means Logan Paul has a 6 inch height advantage over Mayweather.
The last time Floyd Mayweather was in a boxing match he fought against a Japanese kickboxer who was much smaller than him. This time Floyd Mayweather was going to be in the ring with someone who towers over him, so it's not as much as mismatch as people would think, or so it seems.
Floyd Mayweather would have probably still easily won, but this would have been an interesting enough match to warrant spending $24.99. Plus if Floyd Mayweather loses to a YouTube boxer it would surely tarnish his legacy, especially with how Nate Robinson went out against his brother.
However, it appears the general public felt differently, because the sales for the event are lackluster. This has to be a blow to Floyd Mayweather's and Logan Paul's egos.
Author: JordanThrilla