Davis Mills is often called the quarterback no one is talking about, but with him making his first NFL start against the Panthers, he was the topic of many conversations on social media. Strangely enough this led to Davis Mills' neck going viral for two reasons.
Why is Davis Mills' Neck Going Viral?
On social media people are just beginning to notice that Davis Mills' neck is long compared the average neck length. In addition Davis Mills' neck is muscular in comparison to the average person. The end result is a long wide neck, that makes you wonder if he has a small head that makes his neck appear bigger than it is. A moment where David Culley grabbed Davis Mills' neck really highlights his unique build.
If these two neck legends had a baby it would probably have Davis Mills' neck. He has a hybrid of their necks mashed together.
Texans Coach David Culley Grabs Davis Mills' Neck
An incident between Davis Mills and Texans coach David Culley is a great example of how long and thick his neck is. Even with his helmet on David Culley gripped Davis Mills neck with both hands, and his helmet didn't even come off one bit. David Culley has big hands, and it still took both to cover the circumference of his entire neck. A wide clean grip like that was only made possible by Davis Mills' long neck.
It would take someone with the hand size of Kawhi Leonard to grab Davis Mills' neck with one hand.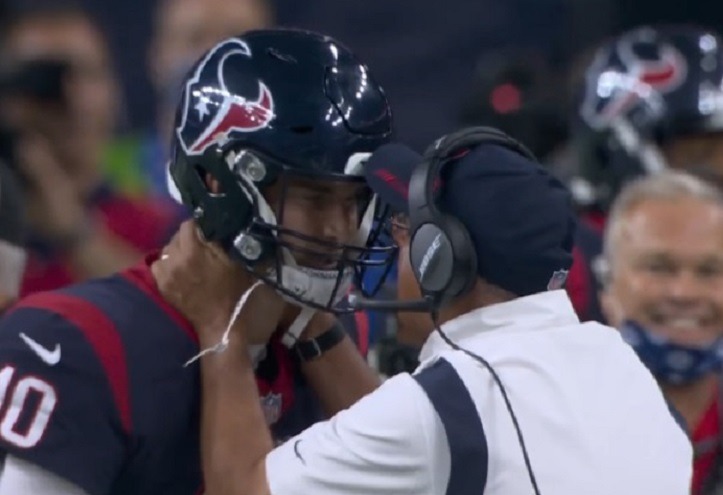 Davis Mills' is 6'4″ tall, and a lot of that height is probably be due to the unique length of his neck. That natural quality should give him the ability to see over NFL defenses with ease. His neck might also throw defenders off as they get distracted marveling in awe at its incredible build.
This gives a new meaning to the phrase "head on a swivel".
Author: JordanThrilla Staff