In recent Instagram post Anthony Edwards reacted to Kyrie Irving talking trash to Lebron James and Lakers.
During the footage at one point Kyrie Irving took off his facemask to sternly say "we will see the down the line. The whole entire Lakers team, because that's what we really wanted". Anthony Edwards responded Kyrie Irving's comment by clowning him writing, "He want smoke for real", but he added two face palm emojis after to possibly insinuate how ludicrous Kyrie was sounding.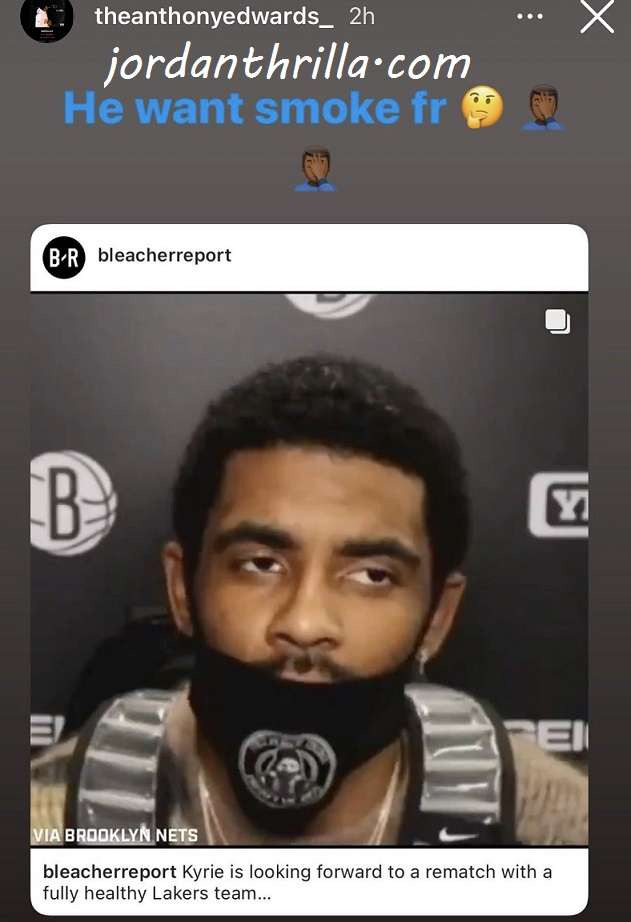 So many things happened during this game that showed the world that Kyrie Irving still acts a like jealous ex when it comes to Lebron. During the game he dissed Lebron's free throw shooting. Also Lebron got into an argument possibly with Kevin Durant on Nets bench about them talking too much during the game.
The funny thing about this it shows once again that Kyrie Irving and Kevin Durant's career revolve around trying to one up Lebron. They are truly jealous of Lebron being in GOAT conversations while they are just random players that were around during the Lebron's era.
Anthony Edwards clowning Kyrie Irving shows that even younger NBA players can see that too.
Author: JordanThrilla