Derrick Rose was the story of Game 2 between Hawks and Knicks, in a valiant effort where he led them to a comeback win. Back in the day he would have got his numbers with high flying layups and highlight posters, but now he plays below the rim. During the postgame interview Derrick Rose 5 p's went viral when he was revealing secret of about his evolution as a basketball player since his injury.
What Are Derrick Rose 5 P's?
The secret to his success was revealed when Kenny Smith asked Derrick Rose what the hardest part of adjusting his game was after the injury, while still being able to dominate like he did in Game 2. Derrick Rose 5 P's, which is a slogan saying "Proper Preparation Prevents Poor Performance" was the secret driving him to be great. Derrick Rose finished the game with a team high 26 points along with 4 rebounds and 4 assists.
The 3rd quarter was where he really took over the game. The highlights below are good examples of how he dominates below the rim more than ever before. He now plays at a slow pace, rather than the quick pace he used to.
Derrick Rose leading the comeback in the third

24 now 🌹 pic.twitter.com/uIIEUD3k69

— x – KNICKS ON MSG (@KnicksMSGN) May 27, 2021
Fans were super excited to see Derrick Rose leading Knicks to playoffs win after all he has been through mentally and physically.
Seeing Derrick Rose be the most important player on a playoff team again pic.twitter.com/jFL8VESVab

— Jacob Rogan (@j_rogan42) May 27, 2021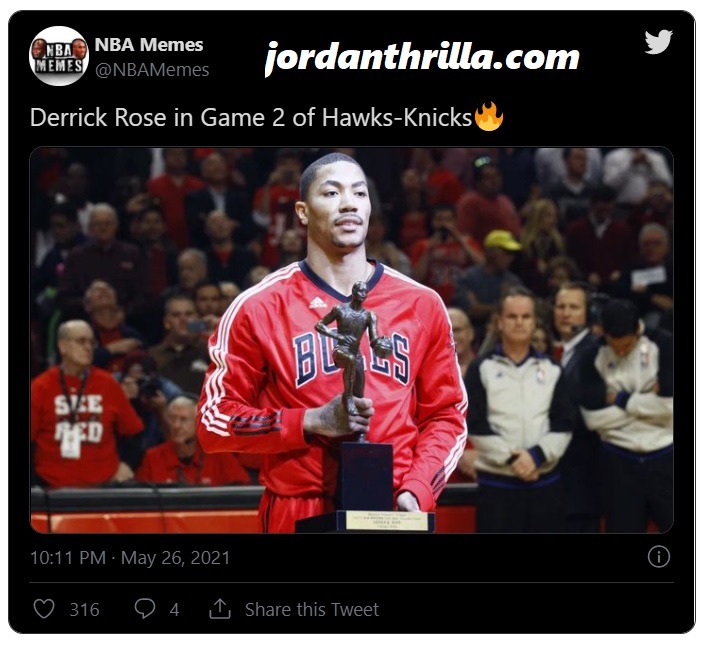 The series is now tied 1-1, with the next game being a home game for the Hawks.
Derrick Rose 5 p's will have him more than ready for that challenge.
Author: JordanThrilla Staff