The matchup between Timberwolves and Lakers was one of the most entertaining of the season despite the fact it was a blowout. During the game the levels of disrespect went from 0 to 100 real quick as Karl Anthony Towns and Patrick Beverley really tried to hurt Russell Westbrook's feelings. Their disrespect towards him caused a lot of backlash on social media, which led to people learning about Karl Anthony Towns' voice.
What's Wrong with Karl Anthony Towns Voice?
KAT is one of the bigger players in the NBA towering at 7ft, and weighing almost 250 pounds. It's his burly size that makes the tone of his voice sound a bit off. He's like the NBA version of Mike Tyson in terms of voice to body ratio. As you'll hear in the video below Karl Anthony Towns' voice is very high pitched, and almost sounds like the tone of a young kid talking.
In the footage Karl Anthony Towns is responding to Stephen A. Smith calling him "classless" for taunting Westbrook in such a disrespectful manner. In case you haven't seen Patrick Beverley and KAT viciously clowned Westbrook's air ball shot.
Karl Anthony Towns defended his actions highlighting how Westbrook taunts people with the "rock the baby" gesture. It seems he believes in the old saying that goes "don't dish it, if you can't receive it". He definitely has a point, but his voice still stole the show.
Here were some reactions to the strange tone of KAT's voice.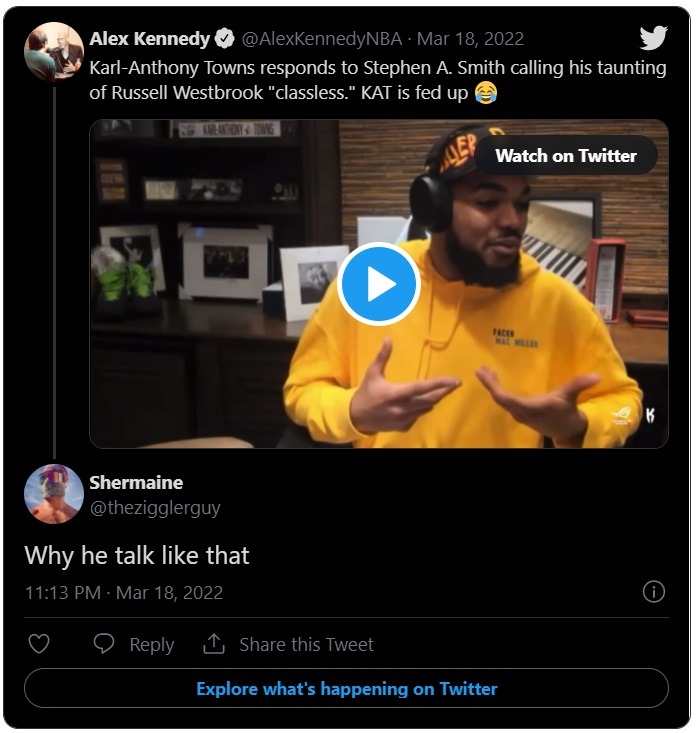 This season Karl Anthony Towns seems to have developed a mean streak, but considering how KAT's voice sounds it's tough to imagine people taking him seriously.
His voice might have been one of the reasons Jimmy Butler was bullying him despite being smaller in stature.