Victor Wembanyama is widely regarded as one of the most promising prospects in the 2023 NBA draft class. The 7-foot-3 French center has a rare combination of size, skill, mobility and defensive potential that has drawn comparisons to mix of Rudy Gobert, Kristaps Porzingis, and Kevin Durant. However, some people on social media are convinced that Wembanyama will be a bust after a video surfaced of him missing every shot in front of reporters at Spurs arena.
The video shows Wembanyama struggling to make any shots from various distances and angles. His shooting form looked broken from head to toe, as he seemed to have no rhythm, balance or confidence in his shot. Some people defending his poor shooting chalked it up to him being nervous, while others think it's proof that his game won't translate to the NBA.
Is Wembanyama's shooting really that bad? Or is he just having a bad day? To be fair his shooting mechanics are somewhat questionable. He has a low release point, a slow motion and a tendency to fade away or lean forward on his shots. He also lacks consistency and fluidity in his shot, as he sometimes changes his form depending on the situation.
He often shoots with his elbows flared out, his wrists bent too much or his feet not aligned with the basket. However, normal fundamentals don't apply to someone who is around 7 feet 5 inches with shoes on, because 99% of NBA players won't be able to properly challenge his shot anyway. A low release point on his jumpshot, is still going to look like a high release point with shorter players guarding him.
In addition these flaws can be fixed with proper coaching and practice, but it's easy to see why some people are concerned about his ability to shoot under pressure and against NBA-level defense. Will Wembanyama need to improve his shooting mechanics significantly if he wants to be an effective offensive player in the NBA? Take a look at this viral footage.
Social Media Reactions to Victor Wembanyama Missing Every Shot at Media Shoot Around
Here are some examples of the viral tweets seen around Twitter after the video above started catching people's attention. Even Spurs fans were insinuating that Victor Wembanyama was a bust in the making.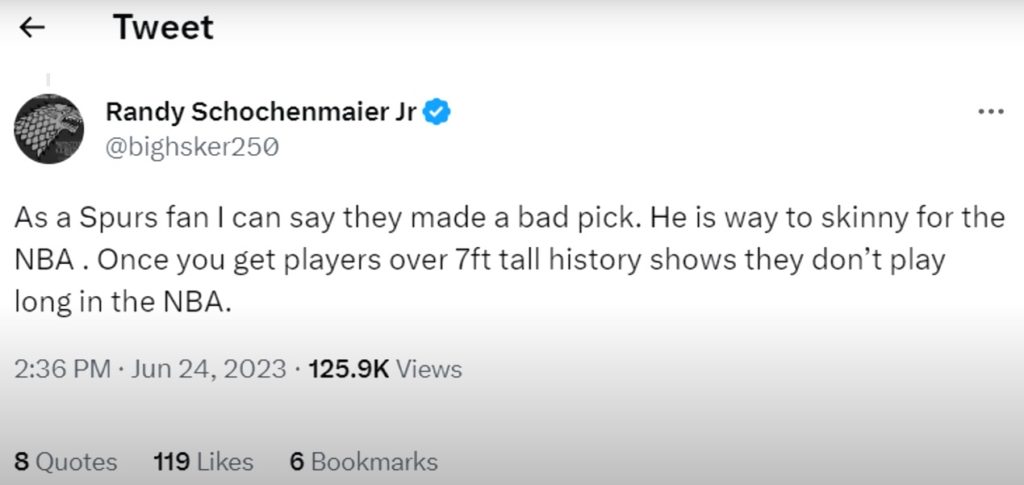 Is Victor Wembanyama's Injury History and Strength More Alarming Than His Shooting in the Video?
To be honest Wembanyama's shooting might be the least of the worries people should have about his NBA future. He will probably have some issues with his strength, durability and basketball IQ. He is very skinny and needs to add more muscle and weight to his frame to withstand the physicality of the NBA game. Interestingly Brian Windhorst claims that Wembanyama's team thinks that adding weight will make him injury prone, so maybe he will find a way to gain strength with gaining weight kind of like Kevin Durant.
He also has a history of injuries, including a stress fracture in his left tibia that sidelined him for several months in 2020. He also needs to improve his decision-making and awareness on both ends of the floor, as he sometimes makes careless turnovers or fouls unnecessarily.
Despite these weaknesses, Wembanyama still has a lot of upside and potential as an NBA prospect. He is a freak athlete who can run the floor, handle the ball and finish above the rim. He is a versatile defender who can protect the paint, switch on screens and guard multiple positions. He is also a willing passer who can find open teammates with his vision and touch.
Wembanyama is not a finished product by any means, but he is also not a bust waiting to happen. He is a young player who is still developing and learning the game. He has shown flashes of brilliance and dominance in various competitions and settings. He has a unique skill set and physical tools that are hard to find and teach.
Wembanyama may have had a bad day missing every shot in front reporters at Spurs arena, but that does not define him as a player or a person. He still has a lot of room for improvement and growth, but he also has a lot of talent and potential that cannot be ignored or dismissed. He has a lot of hype to live up to as basketball analyst claim he is the best NBA prospect since Lebron James.