On June 19th, 2023, Galveston hosted the Juneteenth Chitlings Eating Contest, a unique and exciting event that drew attention from locals and visitors alike. Chitlins, also known as chitterlings, are a traditional African American dish made from the small intestines of pigs, cooked with spices and seasonings. They are considered a delicacy by many, and a symbol of the resilience and creativity of African American culture.
The contest was organized by the Galveston Juneteenth Committee, a nonprofit organization dedicated to preserving and promoting the history and significance of Juneteenth, the oldest nationally celebrated commemoration of the ending of slavery in the United States. The committee wanted to create a fun and festive atmosphere for the community, while also honoring the culinary heritage of African Americans.
The contest attracted participants from all walks of life, who were eager to showcase their competitive eating skills and their love for chitlings. Among them was Wayne "Funk Mouth" Haskell, a 38-year-old local who had reportedly been eating chitlins since he was a child. He allegedly said he learned how to prepare and enjoy them from his grandmother, who taught him to respect and appreciate the dish.
The contest began at noon, with each contestant receiving a large plate of steaming hot chitlins. The alleged rules were simple: whoever ate the most chitlings in a specified amount of time would be declared the winner. The contestants were reportedly allowed to drink water or other beverages, but no other condiments or sauces were permitted.
According to reports the crowd cheered and clapped as the contestants dug into their plates, some with gusto, some with hesitation. Some used forks or spoons, some used their hands. Some closed their eyes, some opened their mouths wide. Some smiled, some grimaced.
Every contestant had their own unique eating style, but no one could match Haskell's speed and stamina. He devoured plate after plate of chitlins, leaving nothing behind. He seemed unfazed by the challenge, as he ate with determination and enthusiasm.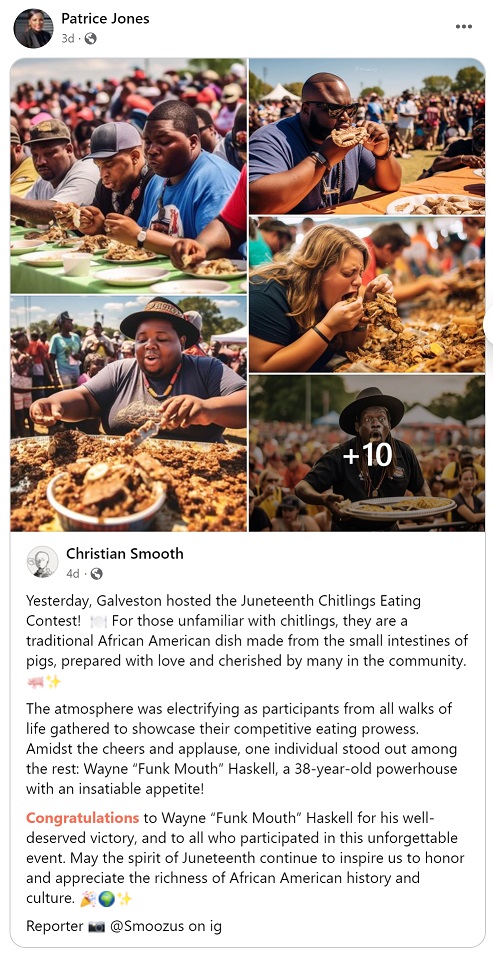 The Juneteenth Chitlins Eating Contest was not only a thrilling competition, but also a celebration of culture, cuisine, and community. It reminded everyone of the incredible stories behind cherished dishes like chitlins, and the enduring power of food to bring people together.
As the Facebook post says, congratulations to Wayne "Funk Mouth" Haskell for his well-deserved victory, and to all who participated in this unforgettable event.