Thanks to the Changzhou Vocational Institute of Mechatronic Technology, couples in long distance relationships no longer have to wait to feel the touch of their significant other. The new Chinese long distance kissing device brings the feeling of a real kiss right to your phone.
How Does the Chinese Long Distance Kissing Device Allow You to Physically Kiss Someone Over the Internet Through Your Phone?
The device called the "Remote Kiss" is equipped with pressure sensors, speakers, and actuators, is the first of its kind. To use the device, users must download an app to their phone, and plug the kissing device into the charging port. From there, users can video call their significant other and send a replicated kiss. The device features moving lips that make the experience as realistic as possible.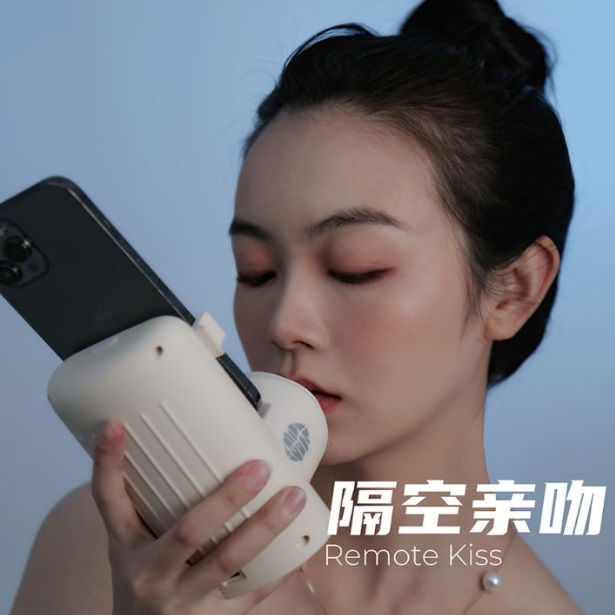 How the 'Remote Kiss' Lead Inventor Jiang Zhongi Was Inspired to Make a Long Distance Kissing Device
The long distance kissing device was the brainchild of lead inventor Jiang Zhongi. Jiang was inspired to invent the product after his long distance relationship with his college girlfriend. He wanted to find a way to feel closer to her even when they were apart.
The device not only allows couples in long distance relationships to stay connected, but it also acts as a dating app. Users can pair up with other strangers and exchange kisses, effectively making it the first ever dating app that allows users to kiss people through the phone.
Soulja Boy's "Kiss Me Thru The Phone" song was 13 years before its time based on this new invention.
The device has achieved worldwide recognition and has been met with mostly positive reviews. Some people have criticized it, as it normalizes a very intimate act without actually being able to reciprocate it. Some people are worried about young kids using the device as well, because that could lead to very inappropriate situations in theory. Others think that it looks too much like a fleshlight. Regardless, the device is an impressive feat of modern technology, and is providing a unique solution to couples in long distance relationships.