If police were about to arrest you how far would you go if you decided to try escaping? Most people wouldn't want to risk their life in the process of doing that, but for one NYC man apparently it was a life or death situation in his mind. An otherwise peaceful day on the Brooklyn Subway Tracks was flipped upside down when a man named Kendall Floyd did the unthinkable while running from cops.
Details on Why NYC Man Kendall Floyd Jumped Rooftops at Brooklyn Subway Tracks While Running From Cops
According to reports cops first pulled over Kendall Floyd after noticing he wasn't wearing a seatbelt. For an unknown reason as the cops where going through their normal routine for traffic stops it alleged Kendall Floyd got out his car, and began running. Reports say he climbed up a stanchion that supports the bridges on Brooklyn's Subway tracks in order to reach the roof of the tallest building on the street. The video below that has been circulating around social media shows the moment Kendall Floyd leaped from one rooftop to another rooftop that was very far away.
Before he made the risky jump it appeared see he was thinking hard about what he was about to do. For the bystanders looking up from the ground they expected the worse to happen. The two rooftops seemed too far apart for him to jump without having a running start. However, on this day the adrenaline of trying to escape the cops made Kendall Floyd have superhuman leg power. In a miraculous plot twist Kendall Floyd jumped rooftops after leaping from the edge of the other building. He looked like a real life supervillain in action.
Is this a movie scene or real life? A question people were probably thinking while witnessing it unfold.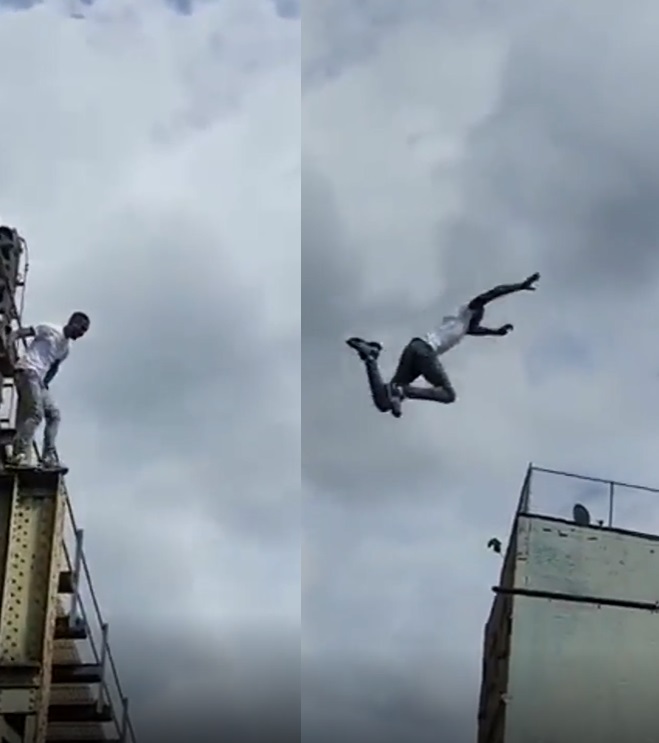 Details on Why Kendall Floyd is Being Held Without Bail
According to recent reports Kendall Floyd had two warrants for his arrest stemming from prior felony assault and burglary charges. That explains why he willing to risk his life to get away from the cops, and is also the reason reports say Kendall Floyd is held without bail.
Kendall Floyd's rooftop jump ended up being a waste of time, because he was quickly arrested after cops circled around to the building he jumped on. In addition reports say he injured his leg upon landing on the adjacent building's rooftop. He's facing charges including criminal trespassing, assaulting a cop, and of course the seatbelt violation he was originally stopped for. The assault charge made him a repeat offender of the same crime, which is why prosecutors recommended him to be held without bail.