Is it time to cancel Kirk Franklin? Black Twitter reacted to Kirk Franklin cursing out his son in a leaked phone call with conflicted emotions. It was shocking to hear a gospel singer using the type of vulgar language that was heard during this phone conversation.
How Kirk Franklin Cursed Out his Son
When the phone call began the first thing that is heard is Kirk Franklin telling his son, "you b*** a** … skinny mother f***** a** better get out my way before I put my foot in your a**". His son then responded "I dare you, shut the f*** up". That's when Kirk Franklin screamed hysterically saying "What!? Don't you ever disrespect me".
Now the world thinks the cursing Kirk Franklin heard on this phone call with his son is the real version of him. Some people feel his gospel music is fraudulent now.
Press the unmute button at the bottom right of the videos below if you hear no sound.
Black Twitter Reactions to Kirk Franklin Cursing Out His Son
Kirk Franklin cursed out his son!!!!!
Black Twitter: pic.twitter.com/YkIv29iNj6

— the Haver of Time (@KekeJaNet32) March 13, 2021
Kirk Franklin: *cussing his son out

Me: this aint none of my business

Also me: pic.twitter.com/xsaSqPf8WK

— Big Girl Slay 💋 (@Biggirlslay) March 14, 2021
Kirk Franklin when at home be like pic.twitter.com/QjbQU8zxz6

— Trapanova♍ ♐ ♐ (@Swisherdreamz) March 13, 2021
Vince Staples chimed in too.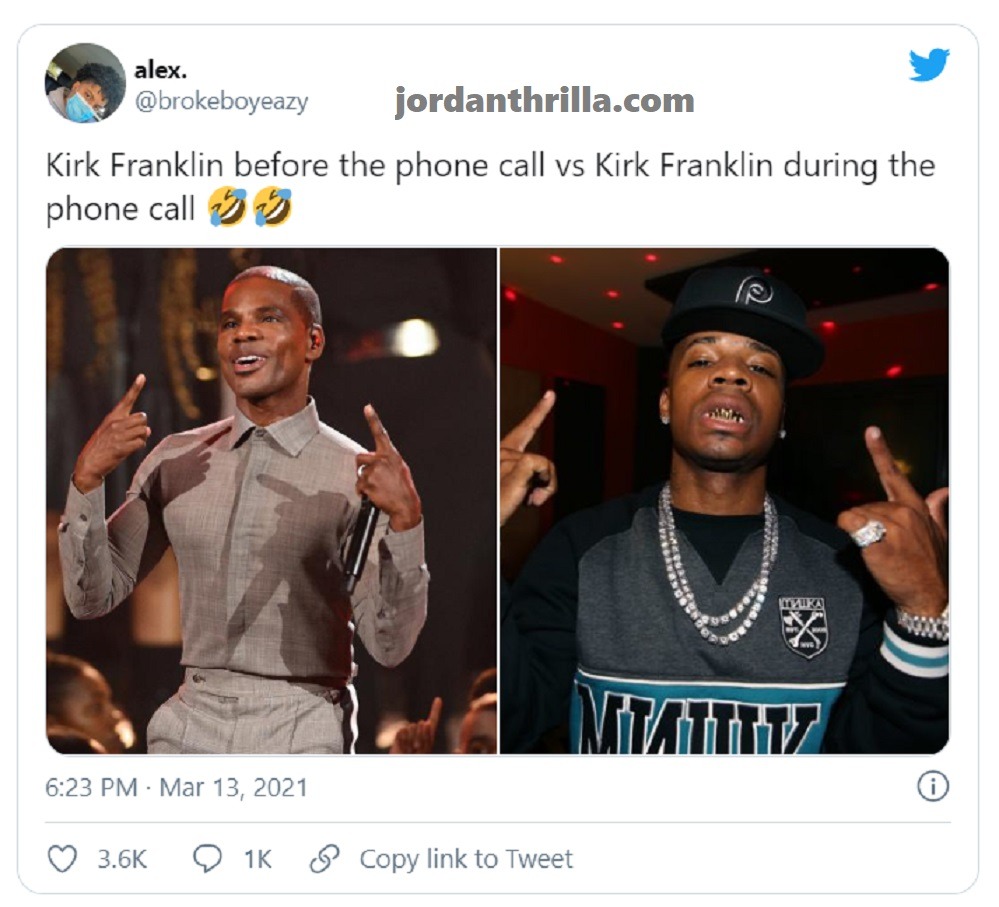 Should Kirk Franklin be Cancelled For Cursing Out his Son?

To Kirk Franklin's defense his son was being super disrespectful, and sounded like he gives him hard time 24/7. Every parent has their boiling point, and a lot would even admit they have had moments like this too. However, there's an old saying that goes "practice what you preach", and Kirk Franklin isn't doing that by using such vulgar language behind closed doors.
Whether you want to cancel Kirk Franklin or not, everyone will admit it will be a bit tougher listening to his gospel melodies now. However, we all know in the social media era people forget really fast.
Author: JordanThrilla