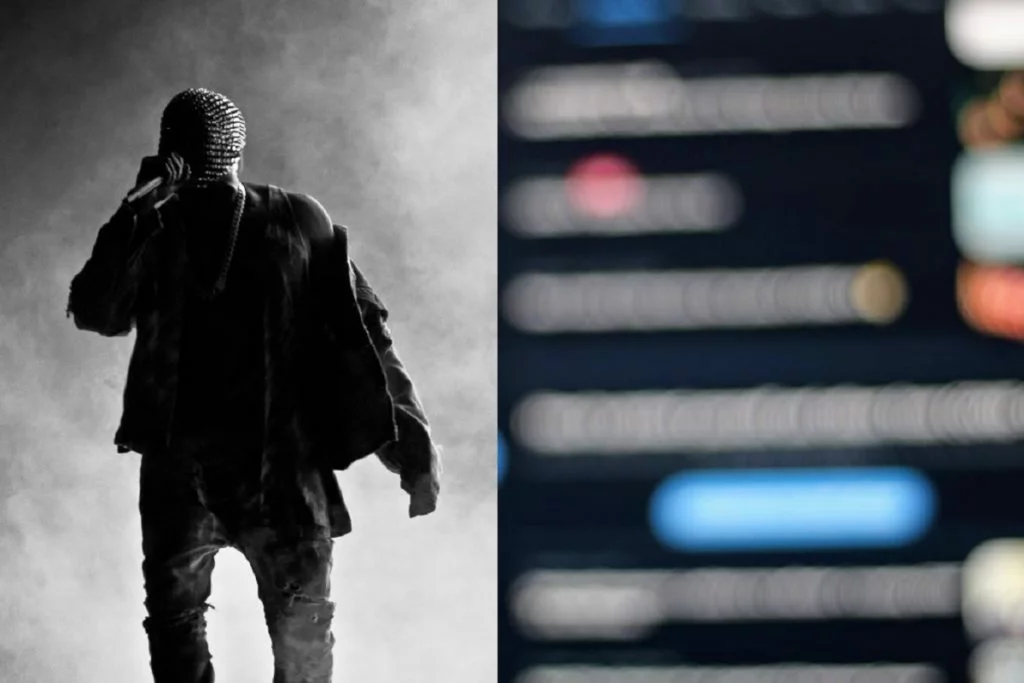 Kanye West has been torn down by the media as he continues to claim the are falsely accusing him of being anti-Semitic. However, he's not backing down for his stance, and now is leaking text messages from his personal trainer Harley Pasternak, which seems to be his version of concrete evidence that some of the claims he was making are true.
Details About Kanye West's Alleged Leaked Text Messages from Harley Pasternak Threatening to Have Him Drugged and Admitting that Black People's Origins Might Be Jewish
In a video from a few days ago Kanye West insinuated that a Jewish doctor purposely misdiagnosed him. The alleged leaked text messages from Harley Pasternak may be proof that he wasn't lying about that. Firstly in the alleged texts Pasternak appears to admit that Kanye West's origins might be Jewish. Kanye seems to believe that since he might be of Jewish origin that he can't be anti-Semitic. Kyrie Irving insinuated the same thing during a press conference before he was suspended. When a reporter asked Kyrie if he was anti-Semitic he responded saying "I can't be anti-Semitic when I know where I come from".
What stood out most about the leaked text messages was what seemed like Harley Pasternak threating to have Kanye West institutionalized and drugged. He also appears to threaten making it difficult for Kanye to see his kids. These are all claims that Kanye made in the past, and the media made him look crazy. Take a look at his new evidence.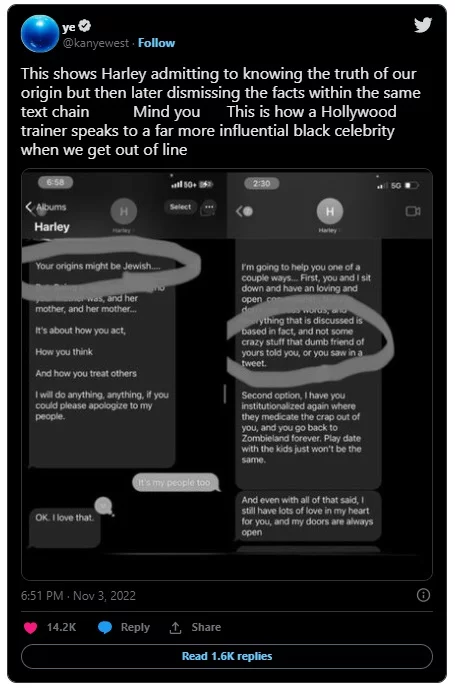 Here you can see Harley allegedly tells Kanye West that his origins might be Jewish.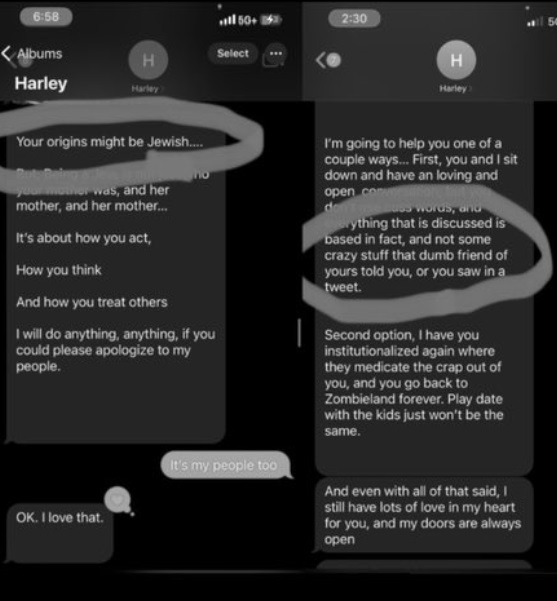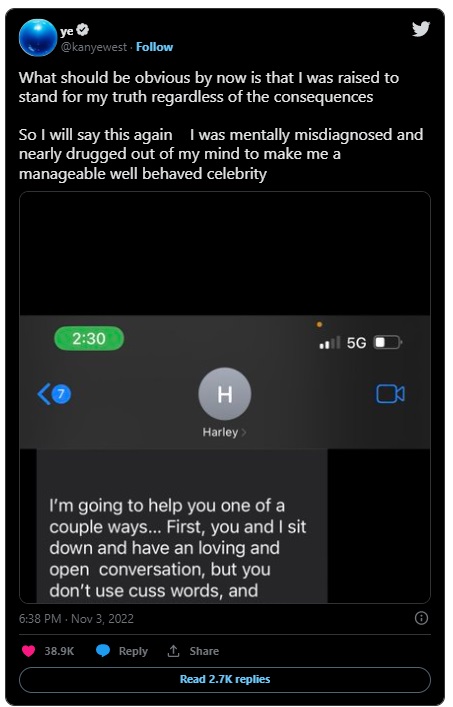 This is a closer look at Harley Pasternak allegedly threatening to have Kanye institutionalized and drugged into "zombieland", which would make it difficult for him to see his kids under normal circumstances.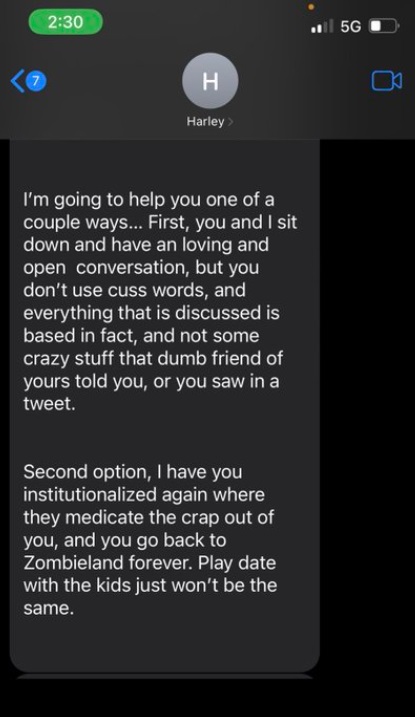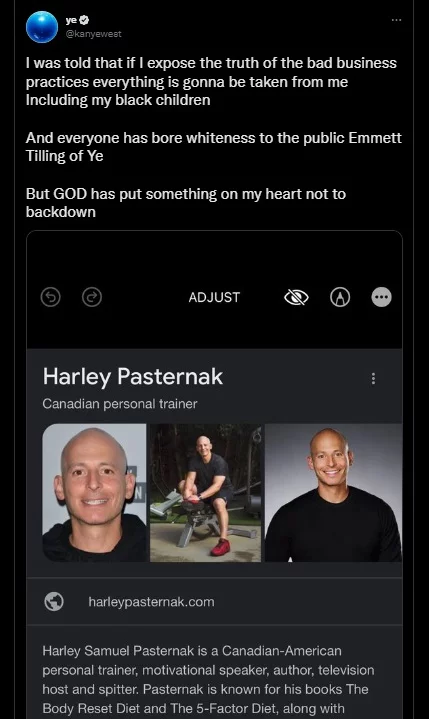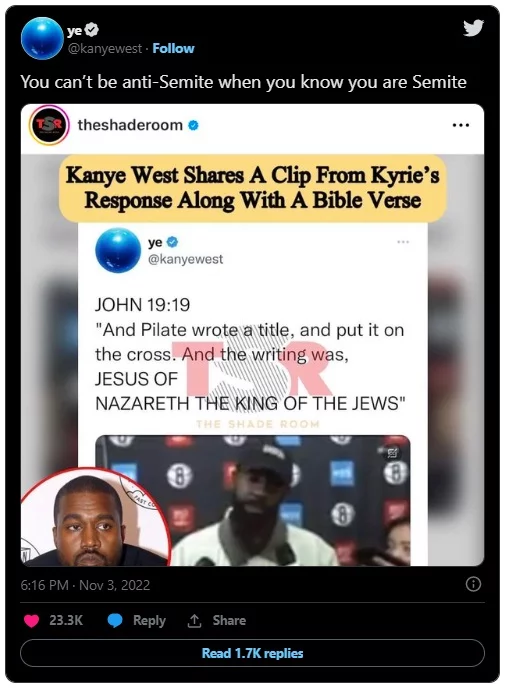 A few days ago Kanye spoke about some of the things he now is providing proof for in the form of these leaked text messages.
Is this proof there is some merit to some of claims Kanye is making? It will be interesting to see how Harley responds to the allegations.