With a federal holiday centered around the day the abomination that was slavery ended, it seemed inevitable that racists would take it upon themselves to try and disrespect the day in some way. No one expected it would be a well known insurance agency, but we now live in a society where the unexpected is the norm.
Harry E. Reed Insurance Racist Juneteenth 'Collard Greens Fried Chicken' Sign in Millinocket Maine Goes Viral
Social media is irate over the racist Juneteenth sign that was posted on the front door of a Harry E. Reed Insurance Agency door in Millinocket Maine. On the piece of paper was message that stated, "Juneteenth it's whatever. We're closed. Enjoy your fried chicken and collard greens". The sign has since gone viral on just about every social media platform, but you won't be believe the plot twist here.
The Strange Plot Twist Behind Person Who Created Racist Juneteenth Sign at Harry E. Reed Insurance Agency
Now most people would assume that a white person was behind a racist sign like that. However, according to reports a multiracial person named Melanie Higgins created the racist Juneteenth sign in Millinocket. This time it wasn't the work of a white person. In a viral Facebook message Melanie admitted it was mistake, and claimed she has been making controversial signs like that at work ever since the COVID-19 pandemic, and she apologized for creating pain the black community.
Harry E. Reed Insurance Agency Google Reviews Plummet after Racist Juneteenth Sign Goes Viral
With the nation catching wind of the racist Juneteenth sign in Millinocket Maine, social media is taking action to make sure the company's reputation never recovers. Harry E. Reed Insurance Agency's Google Reviews have plummeted from a 4 star rating down to 1.6 stars over the past few days. Take a look at some examples of the most recent reviews, and pay attention to the amount of likes each comment has.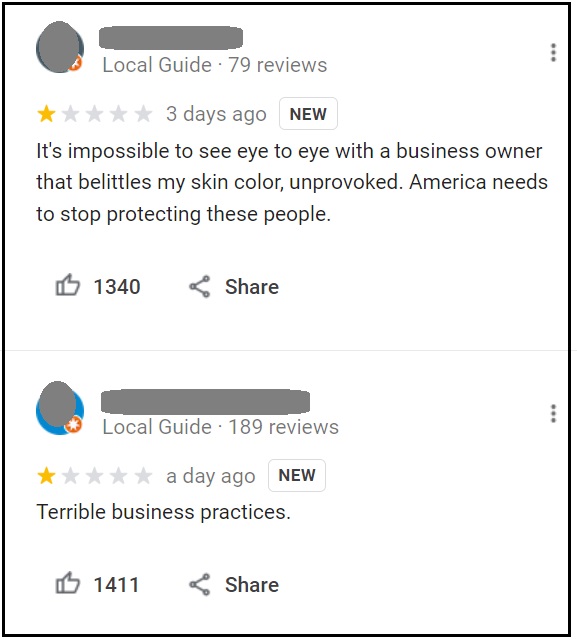 Progressive and Allstate Fired Harry E. Reed Insurance Agency After Racist Juneteenth Sign
According to recent reports the two major insurance companies that Harry E. Reed Insurance Agency was working under have both taken action after that disgraceful sign went viral. Per a report from Yahoo News, both Progressive and Allstate ended their contracts with Harry E. Reed Insurance effectively immediately.
It's safe to say that Harry E. Reed is one the verge of going out of business or changing the company name, because it's tough to imagine any major insurance companies wanting to work with them after that.