Beyoncé had a close encounter with a police officer's hand as she was climbing out of a tank that broke down during her concert at Gillette Stadium in Boston last night.
The pop superstar was performing on her Renaissance World Tour, which has been breaking records and wowing audiences around the globe. However, things took a turn for the worse when the prop tank she used for her show malfunctioned, and left her stranded on stage.
As seen in a video posted by a fan on X, the social media app formerly known as Twitter, Beyoncé had to be helped down from the silver reflective tank by a group of security guards and stage crew member. One of the crew workers touched her butt, and even appeared to be palming it when she was finally out the tank.
The video has gone viral, with more than 2 million views and thousands of comments. Some fans praised the officer for his professionalism and restraint, while others joked that he took advantage of a golden opportunity.
Beyoncé did not seem to notice the butt touch, as she quickly ran off the stage to change her outfit and resume her performance. She did not address the incident during the show. You could hear fans saying "Somebody is getting fired".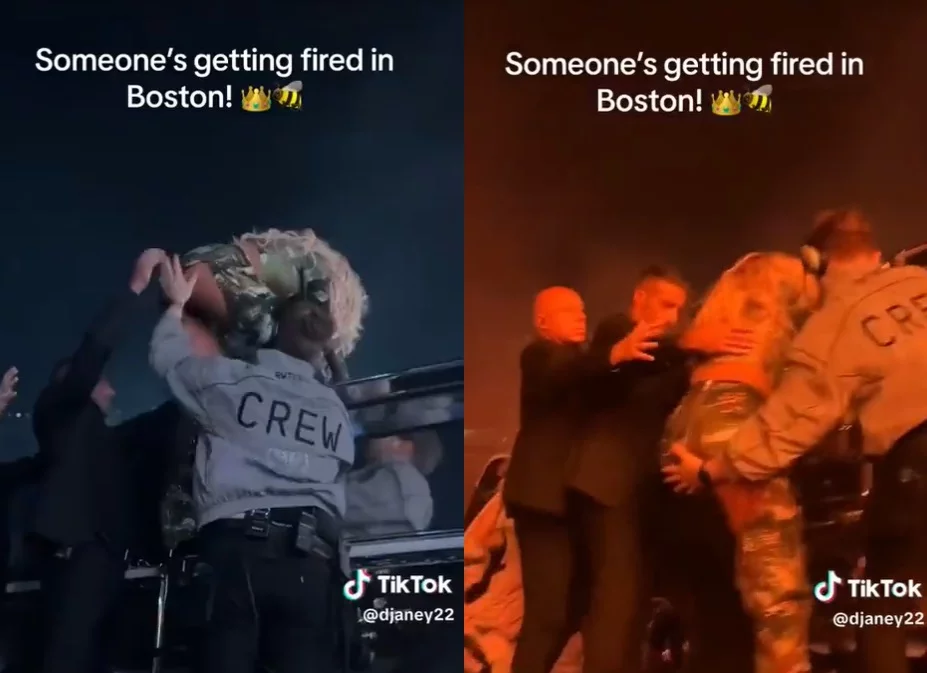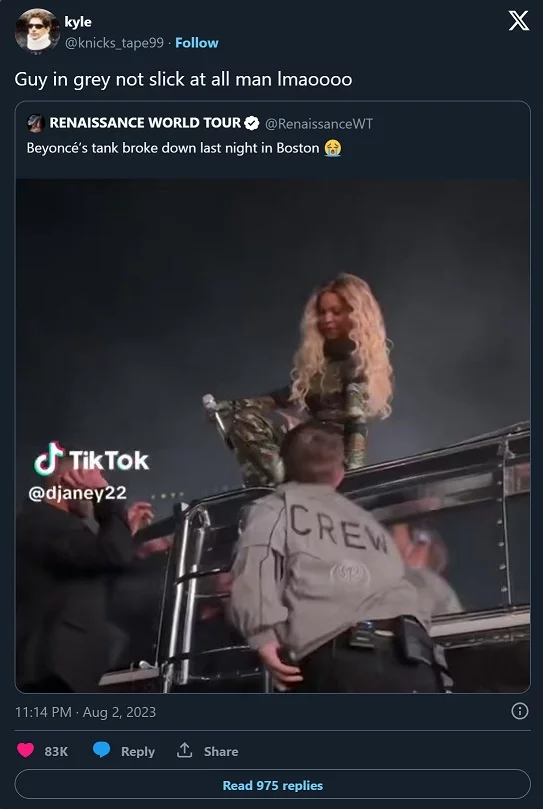 The tank breakdown was not the first technical difficulty that Beyoncé faced on her tour. In London, it was alleged that the same tank did not make it fully down the ramp, leaving her shouting to alert the crew. In Toronto, she allegedly had to stop singing for a few seconds due to a microphone glitch.
Despite these minor setbacks, Beyoncé has been delivering stunning shows that showcase her vocal prowess, dance skills, and visual creativity. Her Renaissance album, which features hits like "BREAK MY SOUL", "Alien Superstar", and "Summer Renaissance", has been praised by critics and fans alike as one of her best works.
Some Beyonce fans aren't happy about the crew member touching her butt like that though, even if it wasn't intentional.