The Anthony Davis injury bug has bitten once again this season, and this time it looks like it could be serious. In what was supposed to be a joyous night as Isaiah Thomas was set to debut, things turned grim when one of Lakers' cornerstone players went down with what could be a season changing injury.
Did Anthony Davis Break His Ankle? 'Damn AD' Trends after Anthony Davis Serious Ankle Injury Accident
The scary incident happened with about 1 minute to go in the first quarter. After making a powerful drive towards the rim, Anthony Davis twisted his ankle after tripping over Naz Reid. As Lakers went down court to play defense Anthony Davis stayed on the ground writhing in pain. The game was eventually stopped with a timeout.
It's tough to hear what he was saying to his teammates and medical staff, but some lip readers think Anthony Davis said, "I can't move my ankle".
Here is a picture of the moment some people think Anthony Davis broke his ankle. The severity of the injury has not been officially confirmed, so everything is just speculation at the moment. It definitely looks really bad, but it could end up being just an ankle sprain.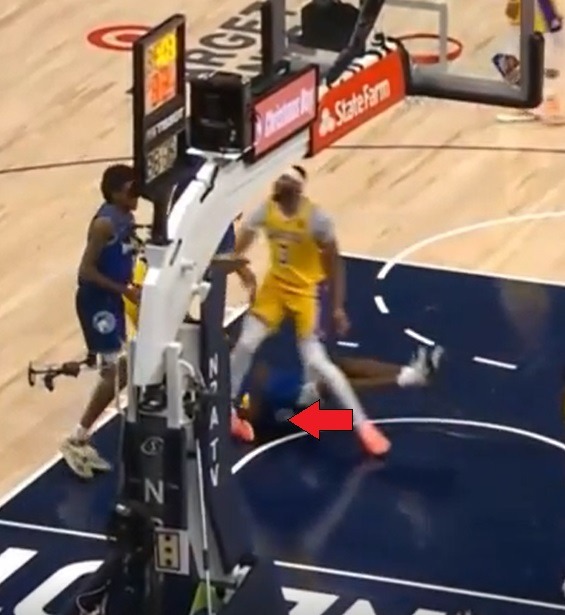 Lebron James was the first person to help AD after his severe ankle injury.
Karl Anthony Towns Called Anthony Davis 'Too Small' Before Ankle Injury
Even before the ankle injury, AD was having a rough night getting bullied by KAT. At one point Karl Anthony Towns made the 'too small' taunt towards Anthony Davis after scoring over him in the deep post. It's not often you see AD getting manhandled by another big like that, especially with his added muscle this season.
Lakers have been hampered with injuries all season long, and some of their key assets like Trevor Ariza haven't even played a game yet. If Anthony Davis' injury is serious, it changes the scope of Lakers season completely. In theory it would completely change Lakers trade deadline goals, because Lebron is too old to have another wasted season. Lakers have no choice but to be in a championship mindset even if Anthony Davis is out for the season.
Hopefully AD wasn't saying "I can't move my ankle", as people on social media are suggesting. He averages about 1 injury scare per game, so hopefully this is just another scare.
Update: Anthony Davis returned from his ankle injury, then injured his knee after another player fell into his leg. He left the game again, and was diagnosed with a left knee contusion.
Authors: JordanThrilla Staff