Of all the sports leagues in America it seems NFL players usually get arrested the most for vehicular violations. That trend continued with Arizona Cardinals star receiver Marquise Brown. Details on how fast he was driving before police intervened are just scary.
Why Was Marquise Hollywood Brown Driving 126 MPH Before his Arrest? Marquise Brown's Booking Report and Mugshot Trends After Speeding Arrest
According to reports in the early morning hours today Arizona Police caught Marquise Brown driving 126 miles per hour in the HOV lane of Loop 101. HOV lanes are reserved for cars that have more than one person, but at the moment there are no reports stating that there was another individual inside his car. There also no reports indicating he was under the influence of any drugs like alcohol.
At the moment there are no details on why he was driving that fast, but from what we do know it seems he took advantage of the space HOV lanes give to speed without other cars deterring him. Marquise Hollywood Brown's mugshot and booking report from the Maricopa County Sheriff's Office have since gone viral. He definitely has the 'I messed up' look in his eyes.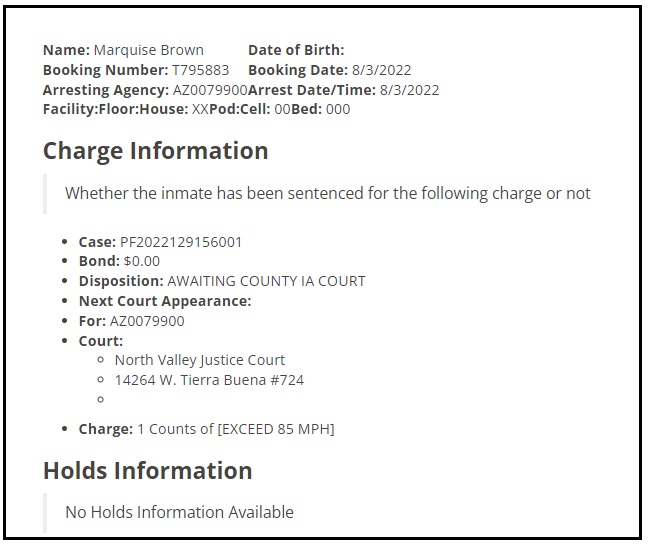 Based on Marquise Brown's booking report there was no bond set, which means he was arrested then released shortly after. It appears his next court date has not been set, but will take place at the North Valley Justice Court.
Everyone likes driving fast, but going 126 MPH just seems a bit too excessive. Plus that puts other people danger if you lose control of your vehicle.