The U.S. men's soccer team defeated Mexico 3-0 in a heated match that was cut short by the referee due to anti-gay chants from some fans. The match, which took place on Thursday night at Allegiant Stadium in Las Vegas, was part of the CONCACAF Nations League semifinal.
The game was tense from the start, with both teams playing aggressively, committing fouls, and fighting. Four players were ejected in the second half due to fights: Weston McKennie and Sergiño Dest from the U.S., and César Montes and Gerardo Arteaga from Mexico. The referee also stopped the game in the 90th minute because of homophobic chants that violated the anti-discrimination protocol. When the game resumed, 12 minutes of stoppage time were added, but the referee decided to end the match early after the chants continued.
The U.S. team dominated the game with two goals from Christian Pulisic and one from Ricardo Pepi. Pulisic scored in the 37th and 46th minutes, while Pepi added a third goal in the 79th minute. The U.S. team extended its unbeaten streak against Mexico to six games, matching its longest run from 2011 to 2015.
The anti-gay chants by some fans were condemned by both teams and by CONCACAF, the governing body of soccer in the region. FIFA, the world soccer organization, has fined Mexico several times in the past for similar incidents. The U.S., Mexico and Canada are co-hosting the 2026 World Cup, which is expected to be a showcase of soccer in North America.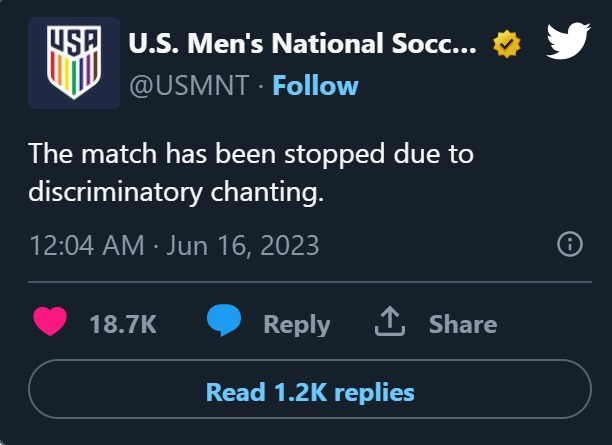 The U.S. team will face Canada in the final on Sunday, while Mexico will play Honduras for third place. The CONCACAF Nations League is a tournament that involves teams from North America, Central America and the Caribbean.
No one could have guessed this soccer match would turn into such a chaotic scene, but the sports world is unpredictable like that.