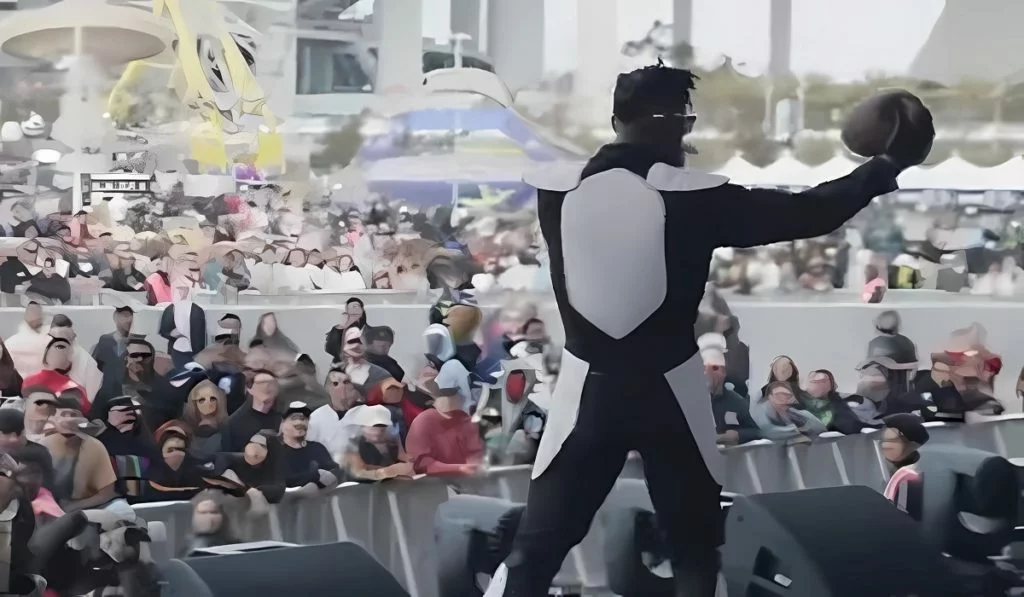 Antonio Brown is a former NFL star who has won a Super Bowl ring with the Tampa Bay Buccaneers and earned seven Pro Bowl selections during his career. He is also a rapper who goes by the stage name AB, and has performed at several music festivals, including Rolling Loud.
Antonio Brown's One Hand Catch on Rolling Loud Stage Sends NFL and Hip-Hop Fans into a Frenzy
On Saturday Antonio Brown did something that combined his two passions: he made an incredible one-handed catch while performing on stage at Rolling Loud in Los Angeles. The catch happened when Brown asked anyone in the crowd who had a football to throw it to him on stage. He said he was open and ready to catch it. One fan obliged and tossed a football towards Brown, who reached out with his right hand and snagged it effortlessly. The crowd erupted in cheers and applause as Brown held up the ball and celebrated his amazing feat.
The video of the catch went viral on social media, with many people praising Brown for his athleticism and coordination. Some even compared him to Odell Beckham Jr., another NFL star who is known for his spectacular one-handed catches.
Brown's catch was not only impressive but also symbolic of his comeback story. After facing several controversies and legal issues that derailed his NFL career, Brown has been trying to rebuild his image and reputation as a rapper and entertainer. He has released several songs and albums, including "Himmothy" and "Pit Not The Palace". He has also collaborated with other artists such as Sean Kingston, Rick Ross, Lil Wayne, Tyga, DaBaby, Lil Baby, Lil Durk, Roddy Ricch and more.
Antonio Brown is Currently on Tour
Brown's performance at Rolling Loud was part of his ongoing tour across the country. He has also performed at other music festivals such as Lollapalooza, Coachella, Bonnaroo and more. He has said that he enjoys performing for his fans and sharing his music with them. His impressively produced music videos on YouTube have millions of views. In some of his songs he tells stories about the drama he and other former players faced in the NFL.
Brown's catch showed that he still has some skills left in him as a football player. Although he is currently a free agent and has not played in the NFL since January 2022, he has not ruled out a return to the league. He has said that he is open to any opportunities that come his way and that he still loves the game of football.
Whether he will ever play in the NFL again or not remains to be seen, but for now Antonio Brown is making waves as a rapper who can also make one-handed catches on stage at Rolling Loud.