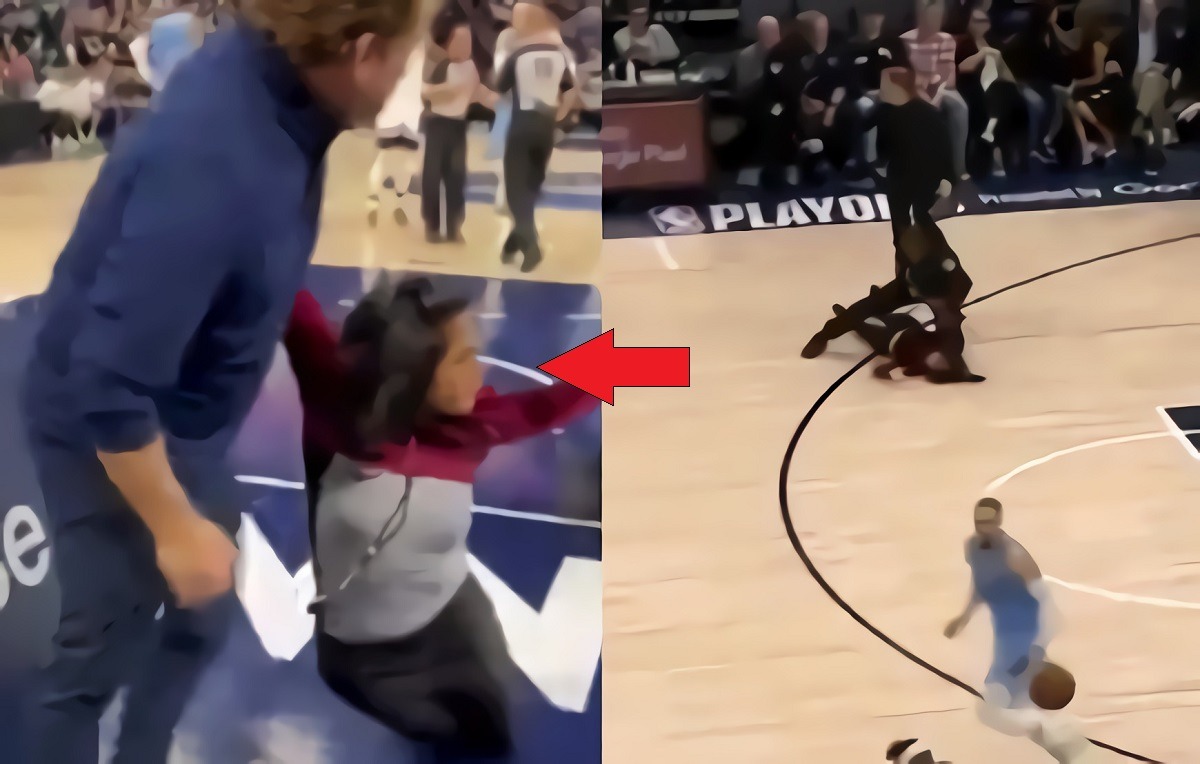 Timberwolves vs Grizzlies was a very eventful game for more reasons than one. In a game that went down to the wire the crowd was once again able to take the spotlight for a few moments. It was another carefully orchestrated protest against Glen Taylor, but for the first time more than one person was involved. Now we may know the identity of at least one of the individuals.
As you'll see below viral footage shows the moment an animal rights activist ran on the court during Grizzlies vs Timberwolves Game 4. The Glen Taylor protester was dressed as an NBA referee. A female security guard tackled the protester who was also woman almost immediately. As they were trying to pull one protester off the court, they had to stop a second protester from doing the same thing. What made the situation a bit scary for the Timberwolves organization was that all this happened right behind where Glen Taylor was sitting.
What Was the Glen Taylor Protestor's Plan After Running on the Court Dressed as a NBA Referee?
Based on a tweet that seems to be from someone who knows the protester, the plan was for the protester to eject Glen Taylor from the game while in disguise as an NBA referee. It sounds like one of those plans that's too crazy to work, and it ended up being too crazy to work. You have to be brave to go through with something like that knowing the consequences. As you'll see Timberwolves security possibly injured the arms of the Glen Taylor protester while they were dragging her off the court.
Identity of Glen Taylor Protester Dressed as NBA Referee Who Ran On the Court During Game 4 Revealed
According to a post from Twitter user @101Darwins, Sasha Zemmel the name of the protestor who ran on the court during Game 4. He tried to prove he was telling the truth by posting a picture of her in the same referee outfit the woman who got tackled by Timberwolves security was wearing. From the looks of it Timberwolves security tackled Sasha Zemmel, which might make her twitter famous very soon.
The controversy surrounding Glen Taylor and his farms is based around him allegedly massacring chickens at his farm after a bird flu outbreak by roasting them alive. Naturally that sounds inhumane to some people, which is why protesters are constantly trying to make sure his actions are exposed to the world.
If you're keeping tabs so far we've seen a woman glue herself to the court, a woman chain herself to a stanchion, and now the alleged Sasha Zemmel Glen Taylor protester running onto the court dressed as an NBA referee. What will happen next?