Since the playoffs began there has been some strange occurrences happening with fans on the court and sidelines. Just a few days ago a woman glued herself to the basketball court during the Timberwolves vs Clippers Play-in game. Now a different lady did something just as crazy during their first round matchup with the Grizzlies, and it's all connected apparently.
Details on the Group Behind Woman Chaining Herself Basket Stanchion During Timberwolves vs Grizzlies
Viral video shows the moment security noticed a woman chained herself to the stanchion, which led to a stoppage of the Timberwolves vs Grizzlies Game 1. It was hilarious to watch security trying to figure out how to unchain the woman, since they apparently didn't have a chain cutter. On the surface it may look like the fan was crazy, but there was a much deeper motive behind these recent occurrences, and it involves the Timberwolves owner Glen Taylor and chickens.
As you'll see in the footage below the woman who chained herself to stanchion was wearing a shirt that says "Glen Taylor Roast Animals Alive". The group behind both situations is a group called 'Direct Action Everywhere', and they claimed responsibility for the chaining incident on Twitter. Apparently they are not happy about Glen Taylor receiving farm bailout money, and the fact that Chickens at his farm were massacred after a bird flu outbreak.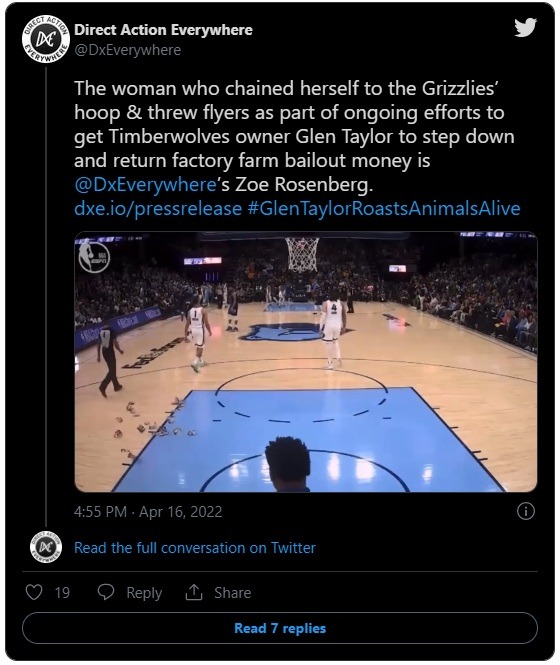 The crowd wasn't happy about Direct Action Everywhere's soldiers interrupting another Timberwolves game, but you have to admit there technique is very effective. They now have the world talking about Glen Taylor's shady farm tactics. Most people didn't even know about the chicken massacre that happened at his farm before these two recent protests.
The only question now is what will happen during Game 2 of Timberwolves vs Grizzlies? Will Direct Action Everywhere take another stand against Glen Taylor? Get your popcorn ready folks, the crowd has now stole the show of that series.