Luka Doncic is on a historic run this season, putting up unprecedent numbers across the board. This season so far he has managed to surpass the greateness he displayed last year. His most recent game against the Knicks was just another chapter added to the book that is his growing legend, and KD himself had to take time to pay homage to what he witnessed.
Kevin Durant Reacts to Luka Doncic's 60 Point Triple Double Performance with Free Throw Miss Game Tying Shot with NBA 2K MyCareer Comparison
What better way to put icing on top of a 60 point triple double than to hit a game saving shot at the end of regulation. With 4.2 seconds to go Mavs found themselves down two points with Luka at the line to take his last of two free throws. In this situation he had no choice, but to miss on purpose, get the rebound, then make a shot in the span of 4 seconds. On most nights this would be almost impossible to accomplish, but he showed why he's an NBA legend already.
After witnessing him make history in epic fashion, Kevin Durant called Luka Doncic a 2K MyCareer character in real life. Luka is the first player in NBA history with 60 points, 21 rebounds, and 10 assists in one game.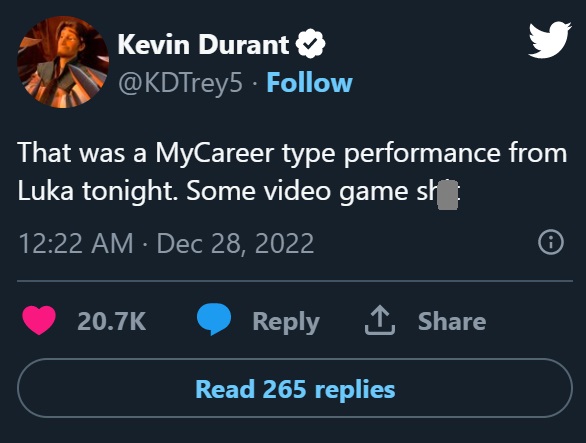 What is NBA 2k MyCareer?
NBA 2K MyCareer mode is one of the most exciting and immersive gaming experiences out there. It allows you to create your own player, customize their look, and take them through their journey to become an NBA superstar. Along the way, you'll face off against some of the biggest names in the NBA, and you'll need to make strategic decisions that will affect your career path.
You'll also have to manage your finances and relationships with your team, as well as make sure you're training and playing your best. All of these elements make NBA 2K MyCareer mode an incredibly engaging and rewarding experience. Whether you're a basketball fan or just looking for an immersive gaming experience, NBA 2K MyCareer mode is definitely worth checking out.