Job training is one of the most important parts of the hiring process of a new employee for most businesses. The skills learned during these training sessions help a new worker navigate through expected, and unexpected situations. After a massive brawl took place on Christmas, Waffle House job training is trending, because one of their workers did something pretty incredible during the scuffle. As you'll see in footage of the viral fight the white Waffle House employee blocked a chair a throw with one arm. Keep in mind that chair is made of heavy steel.
According to reports the fight broke out at a Waffle House in Austin, Texas. The brawl allegedly began when a group of disgruntled customers refused to leave the restaurant after becoming angry for an unconfirmed reason, and it eventually involved multiple employees. There are currently no reports of any arrests being made. Take a look at some reactions to the scuffle on social media insinuating Waffle House job training made the woman able to block chair throws with ease.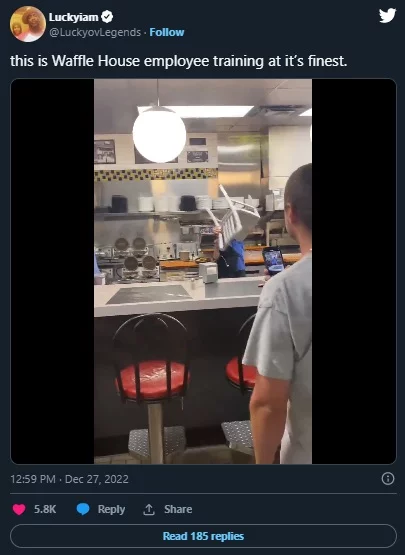 The footage below shows the moment the bell rang, and the Royal Rumble began.
There's no denying that Waffle House restaurants are popular places to go for breakfast especially during busy times, but is there a reason for all the fights? One theory is that due to the fact that they're often crowded and noisy, this combination can lead to conflicts and fights between customers at a heightened rate. In addition since Waffle House restaurants are usually located in high-traffic areas, and open late night when people are leaving the club drunk or tipsy, they're more likely to see incidents of violence.
If anything this video proves that Waffle House employees are truly built different. Someone give that woman a WWE contract for blocking that heavy steel chair like it was nothing. Her arm might be a little sore in the morning though. This is one Christmas fight video that will never be forgotten.