Zion Williamson, the star power forward of the New Orleans Pelicans, has been accused of cheating on his girlfriend Ahkeema aka Concrete Rose, who currently pregnant with their baby girl. The accuser is none other than Moriah, an adult film star who claims to have had an affair or some type relationship with Williamson. On social media she goes by @moriahmilly04 and @moriahmillsss.
Did Zion Williamson Cheat on His Baby Mama Ahkeema With Adult Film Star Moriah Mills, or the Other Way Around?
Moriah Mills took to Twitter to expose Williamson's alleged infidelity, posting screenshots of text messages that she says were sent by him. In the messages, Williamson reportedly asked Moriah if she wanted to move to New Orleans with him, and how much money he would have to pay her per month. Moriah also claimed that she was late and could possibly be pregnant with Williamson's child.
The scandal broke out shortly after Williamson announced that he and Ahkeema, also known as Concrete Rose, were preparing to bring a baby girl into the world. The two lovers held a gender reveal party, and posted videos from the event on Instagram and YouTube. Their celebration was dampened with accusations of Ahkeema selling CPNs in the past, and of course Moriah claiming that Zion was cheating. Take a look at these viral tweets.
In this alleged leaked text message Zion told Moriah "love you in these jeans. And I'm gone Ft you in a little bit. So can we talk about you moving".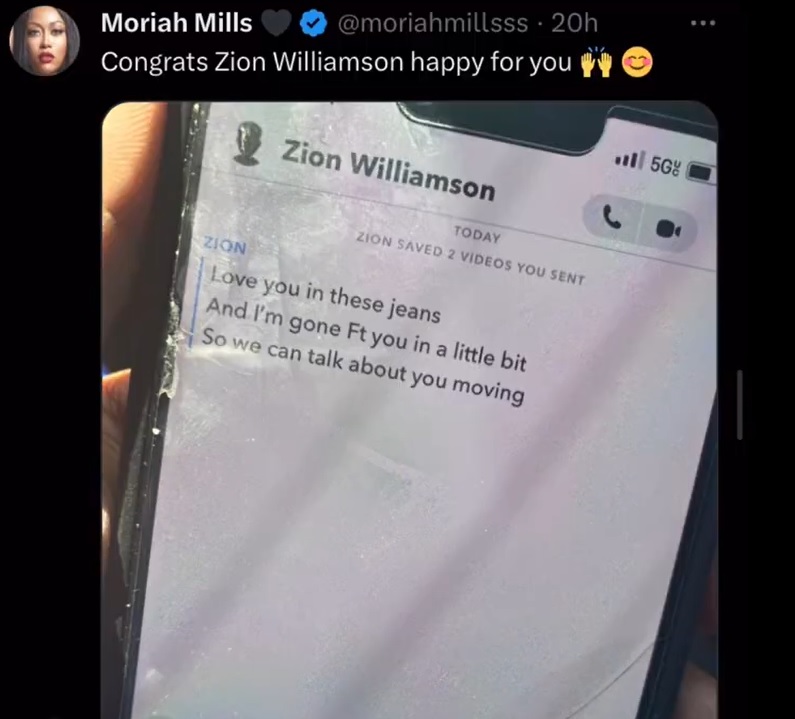 In this leaked text he allegedly wrote, "I want to fly you wherever I'm at for four days. You sexy asf".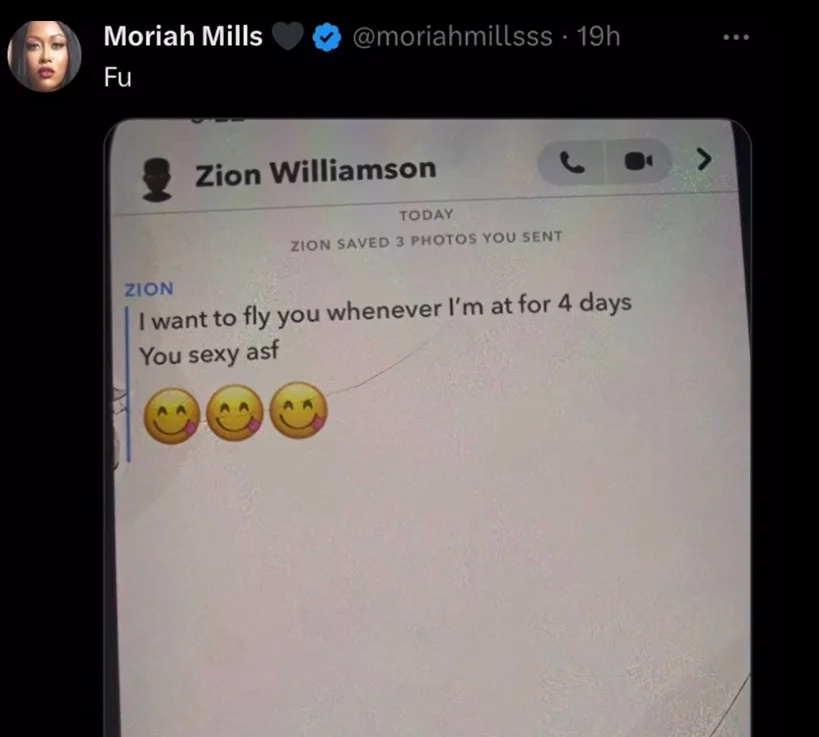 In this text message it appeared Zion Williamson lied to Moriah by saying he didn't have a girlfriend. He allegedly wrote, "Bet. I don't have a girlfriend, but if I moved you to New Orleans would you be cool with being like my official? Just asking so I know how to go about the situation with respect". It's alleged that he was already seeing Ahkeema when he sent this text.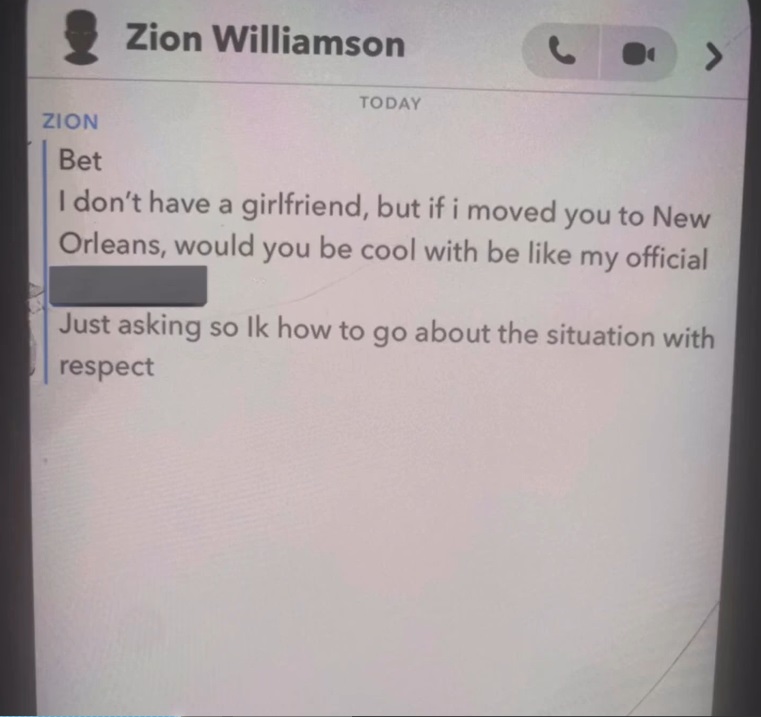 In the text below it appears Zion was asking Moriah about moving expenses, in particular how much she was expecting him to pay her per month. In the text he wrote, "When you move, how much do you expect me to pay you a month, but I'm super excited". Based on the message it's possible zion was really out here tricking, but like they say "it ain't tricking if you got it" right?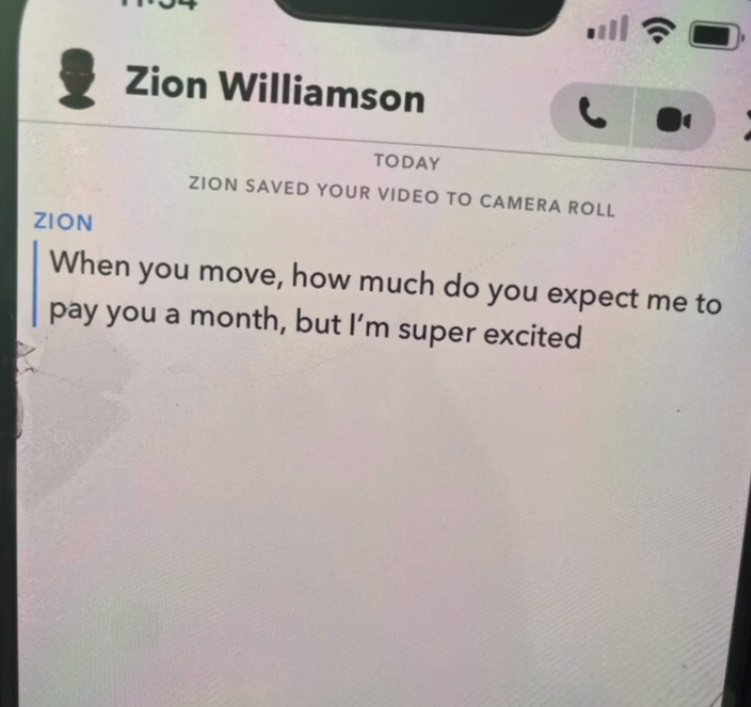 Perhaps what's most interesting about this situation is that Moriah Mills feels that Zion Willamson was cheating on her, and Ahkeema was the mistress. If you ask Ahkeema, she probably feels that she was the one being cheated on.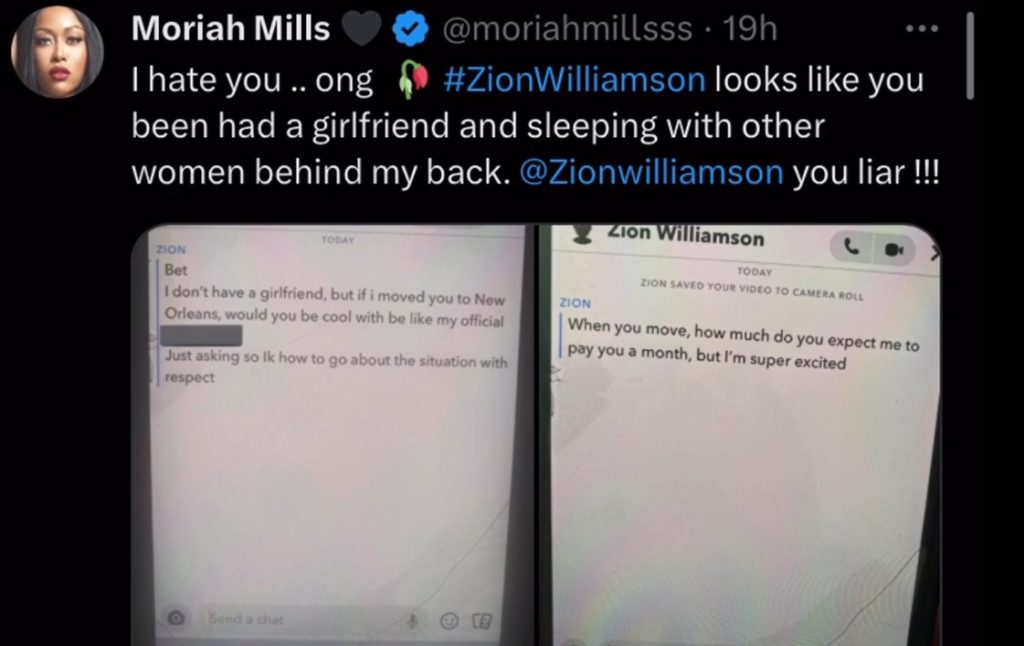 Did Zion Williamson Get Adult Film Star Moriah Mills Pregnant?
While it hasn't been confirmed, there's a chance that Zion might be welcoming a second child into the world within the next 12 months. During her twitter session exposing him, Moriah Mills revealed that her period was late, and told Zion "better pray I'm not pregnant too, because I'm definitely late". She went on to say she feels that Ahkeema trapped him, and he got hustled by a woman 7 years older than him. She also claims that Concrete Rose was the reason Zion gained weight.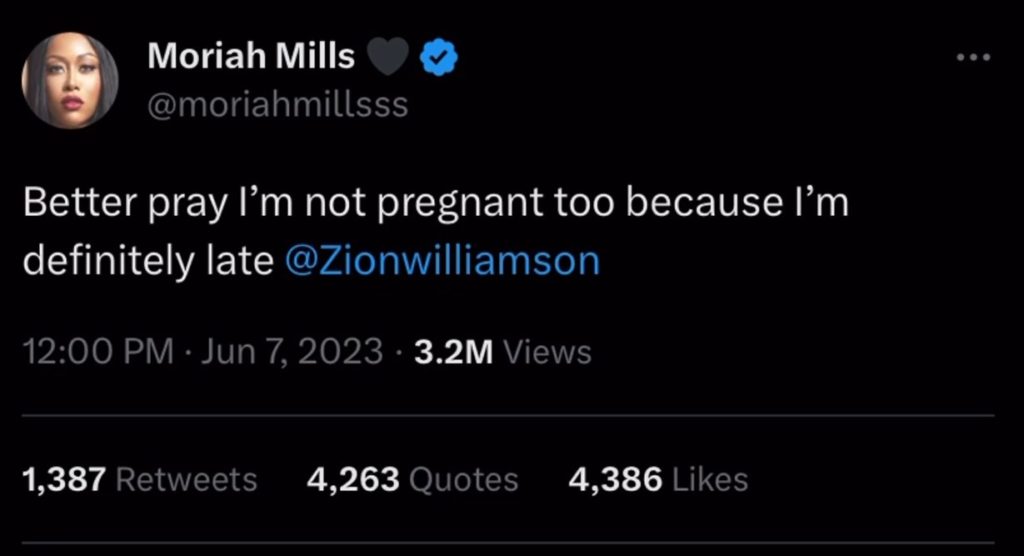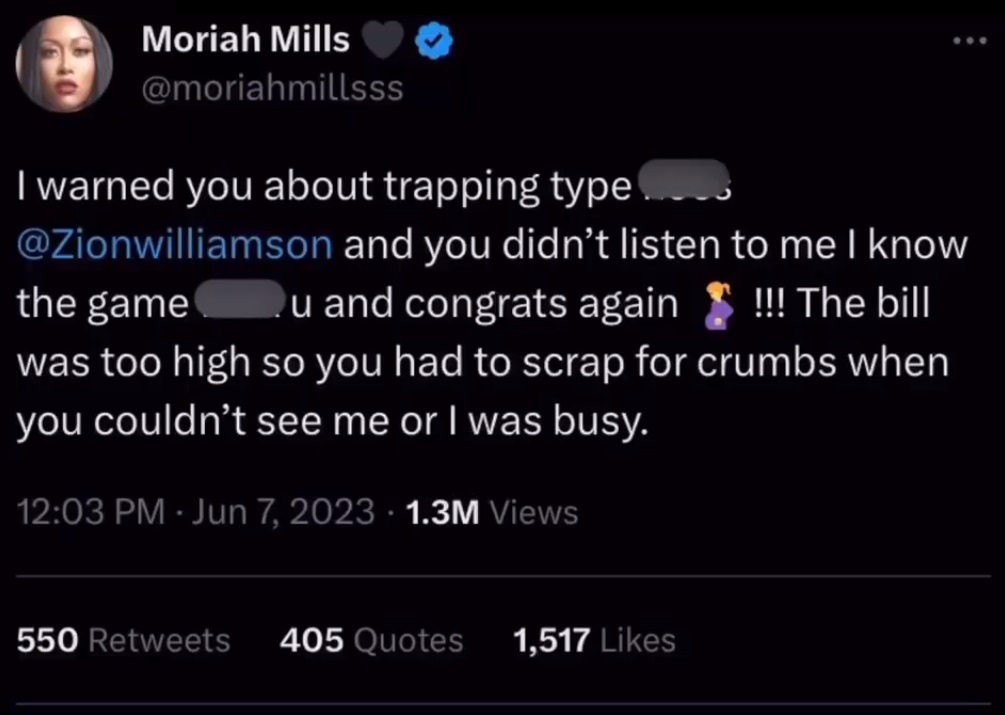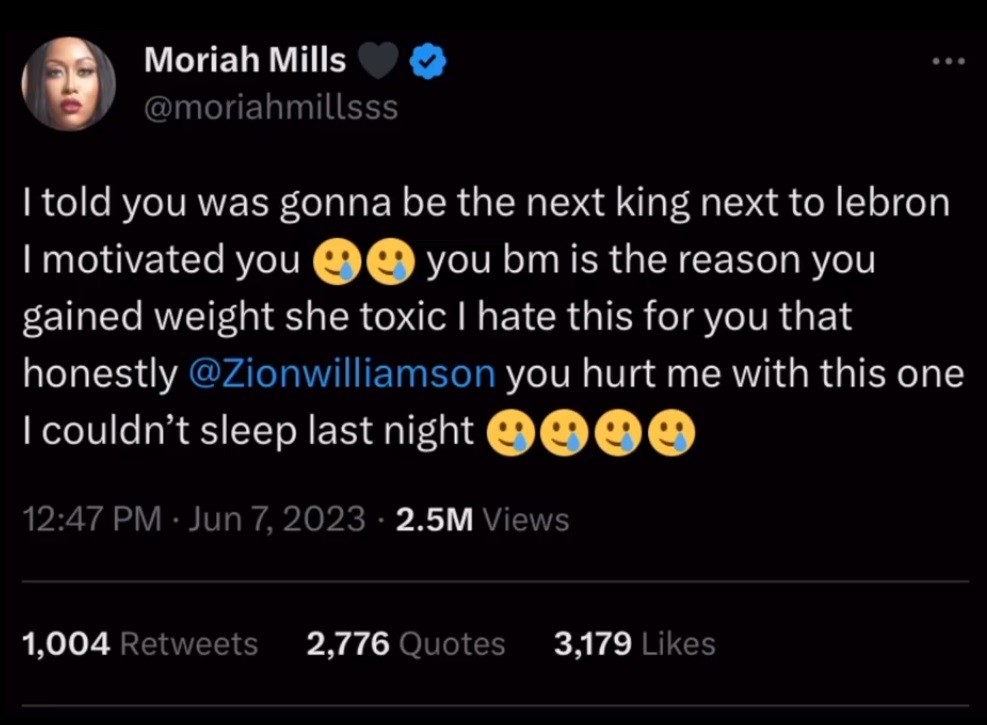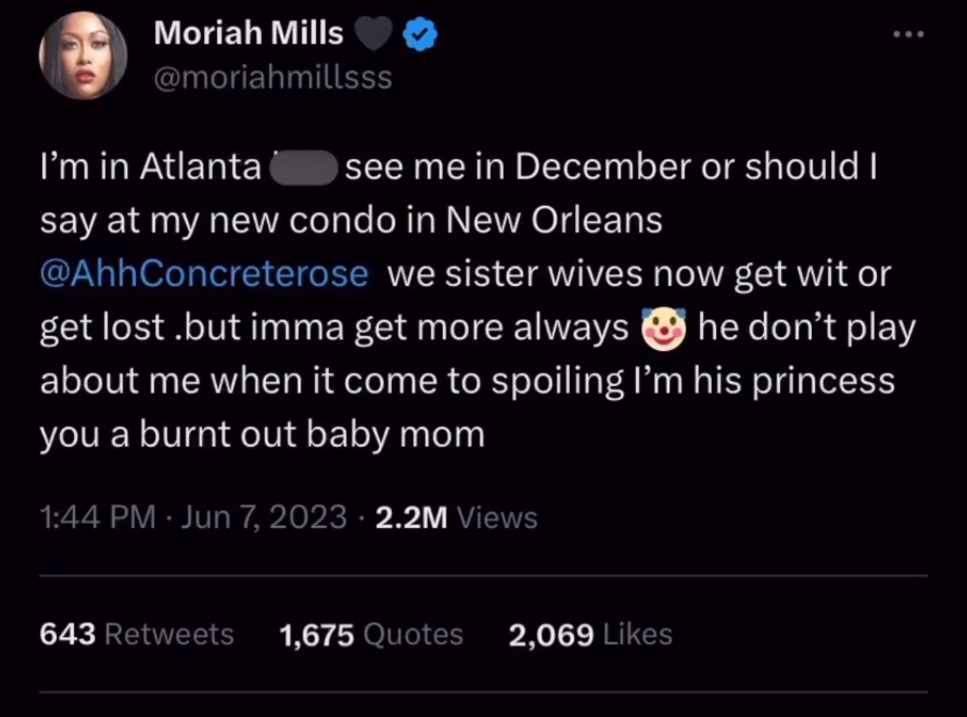 How Ahkeema aka Concrete Rose Responded to Moriah Mills
Williamson has not publicly responded to Moriah's allegations, but his baby mama Ahkeema did by calling Moriah jealous in a tweet where she wrote "jealous is such an ugly look on people". The Pelicans remained silent on the matter, but usually NBA franchises don't get involved in their superstar's baby mama drama. However, they are likely worried considering this could possibly affect his mental mind state.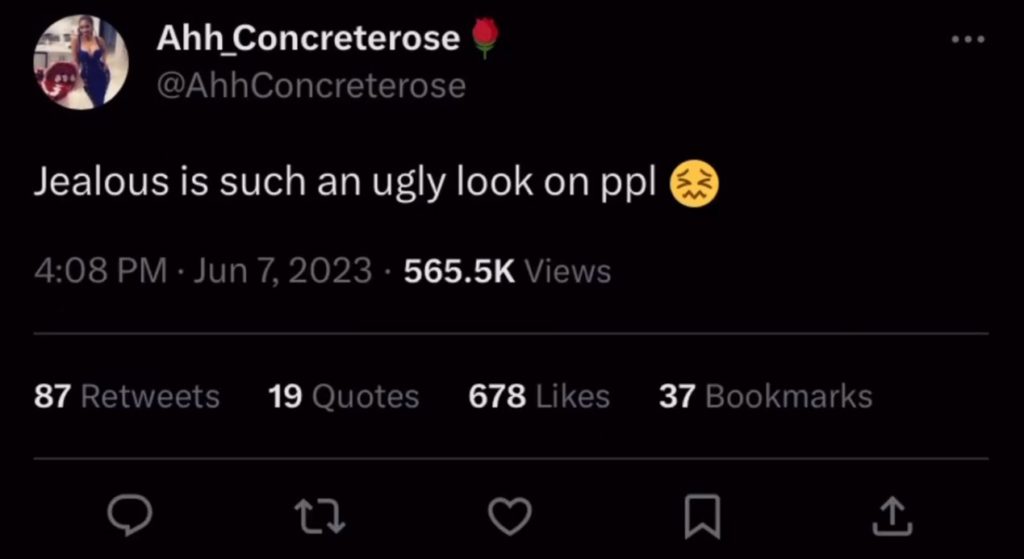 As you can see in the tweets above, it seems Moriah Mills is going to do everything in her power to stay with Zion despite his alleged cheating. She's even willing to play the step mom role.
Who would have guessed that the 2023 offseason would be ruled by the top two picks from the 2019 draft for non basketball related reasons.