Donald Trump isn't President anymore, but he is still managing to rule Political headlines for the most hilairous reasons. This time Donald Trump was caught drinking coke 48 hours after telling people to boycott Coca-Cola products, because they criticized a new election law in Georgia. A viral video with Stephen Miller showed Donald Trump had a coke bottle hidden behind his phone on the left side of his desk.
Why Do Georgia Republican State Legislators and Donald Trump Want to Boycott Coca-Cola Products?
The issue all started after Coca-Cola criticized the passage of the Election Integrity Act of 2021. Georgia Republicans accused Coca-Cola of perpetuating a national dialogue that would "mislead" Georgia residents, causing more divisiveness.
In a letter to Kevin Perry who is the President of Georgia Beverage Association the Georgia House Republican caucus said they would be removing Coca-cola products from their offices. They explained that SB202 expands early voting, will ensure shorter voting lines, secure the use of drop boxes that would otherwise be illegal, and make the election process more transparent in general for residents of Georgia.
They claim Coca-Cola is caving to the pressure of cancel culture, by criticizing the Election Integrity Act of 2021 as a republican response to Donald Trump's claims of the election being stolen from him.
Now that you now the backstory take a look at Donald Trump with his hidden Coke bottle, despite supporting the boycott Coca-Cola movement.
To be exact Donald Trump had a bottle of diet Coke hidden behind the phone.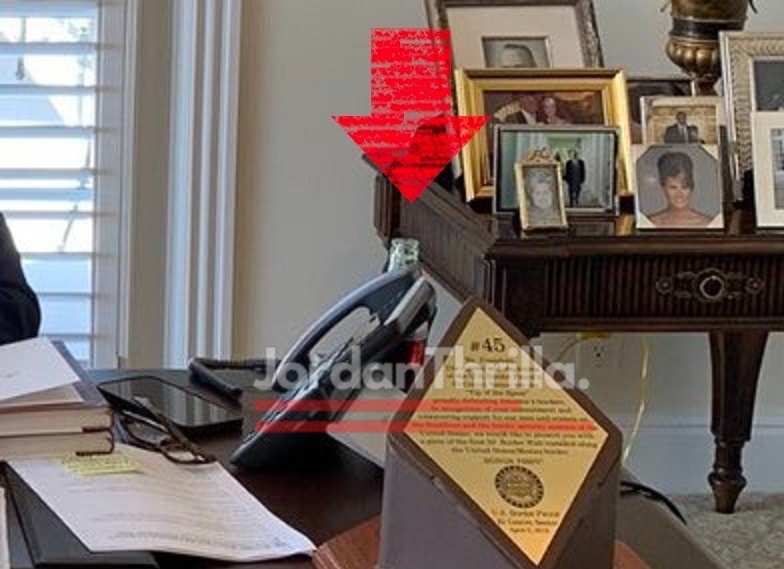 It appears Donald Trump wants you to stop drinking Coca-Cola products, but he isn't going stop himself from doing so. Surprisingly it's a bottle of diet coke, which means Trump might be trying to lose weight before that 2024 presidential run.
I guess you could say he has a "Coke" addiction that's more powerful than his political beliefs.
Author: JordanThrilla Staff