Carhartt clothing which was known for making clothes catered toward conservative leaning people is in the midst of controversy. As you probably know the Supreme Court blocked Joe Biden's OSHA vaccine mandate in a 6-3 vote, which effectively prohibited the Federal Government from forcing businesses with more than 100 employees to have a vaccine mandate. However, companies still can legally enforce vaccine mandates if they so choose, and a leaked email from Carhartt showed they are doing just that. Considering the conservative demographic they cater to, many people are not happy with their decision.
People Want to Boycott Carhartt After Leaked Email Enforced a Mandatory Vaccination Policy Despite Supreme Court Blocking Biden's Vaccine Mandate
Carhartt's leaked vaccine mandate email confirmed that all their employees must be vaccinated by February 15, despite Supreme Court blocking Joe Biden's OSHA vaccine mandate. They claim workplace safety is their priority, and that COVID vaccines are necessary for a safe workplace. A claim that still doesn't make sense considering COVID vaccines don't stop the spread of COVID, and are especially ineffective against the Omicron variant. Still yet Carhartt believes that unvaccinated people are a "people and business risk", despite the fact that vaccinated people can spread COVID at essentially the same rate.
Nevertheless Carhartt's leaked email sent social media into a frenzy, because the demographic that usually buys their clothes are people most would associate with being anti-vaxxers. Naturally there were many people calling to boycott Carhartt over their vaccine mandate email, and others who were loving the fact that conservative anti-vaxxers had to turn on a company they once loved, and probably have wardrobe full of clothes from.
Here is the leaked email that set everything off.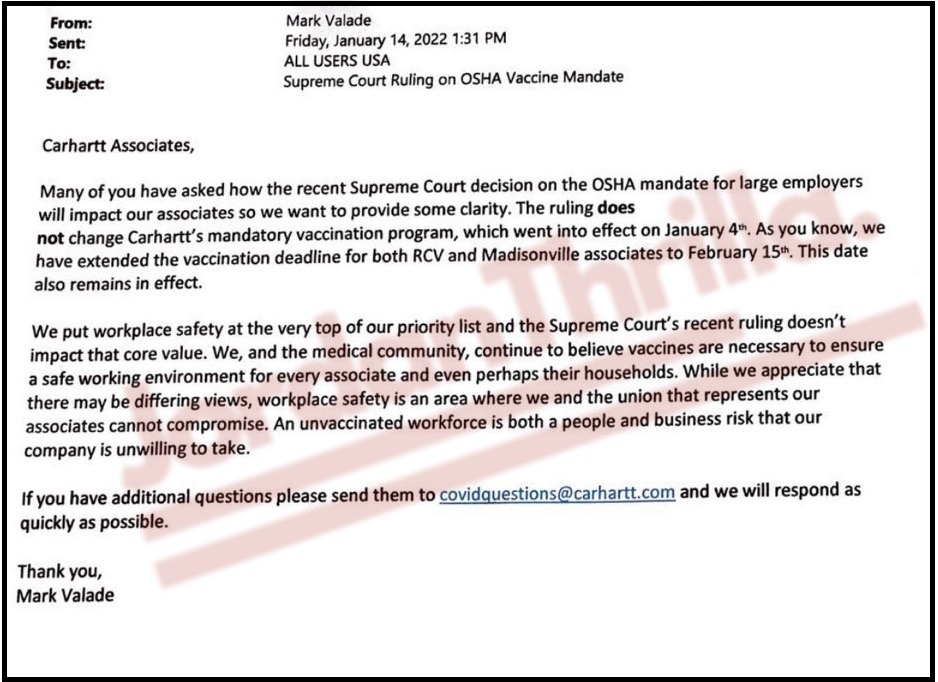 These were some reactions from people who wanted to Boycott Carhartt for forcing their employees to get vaccinated.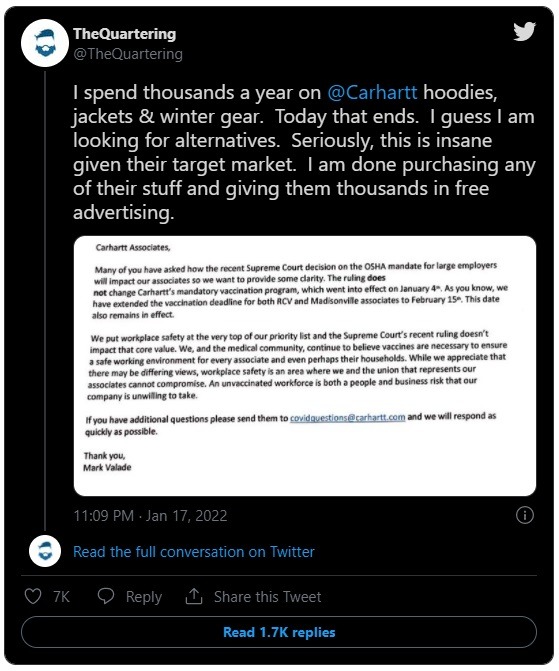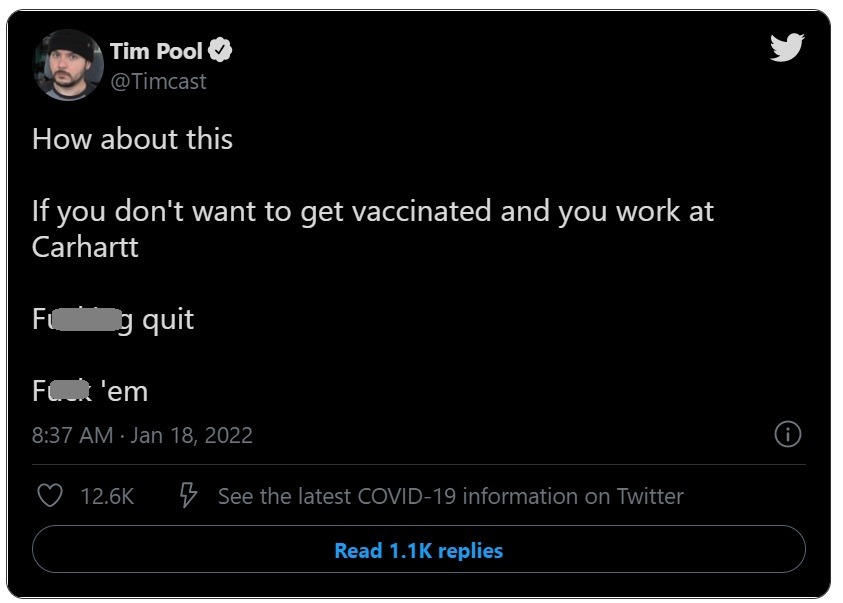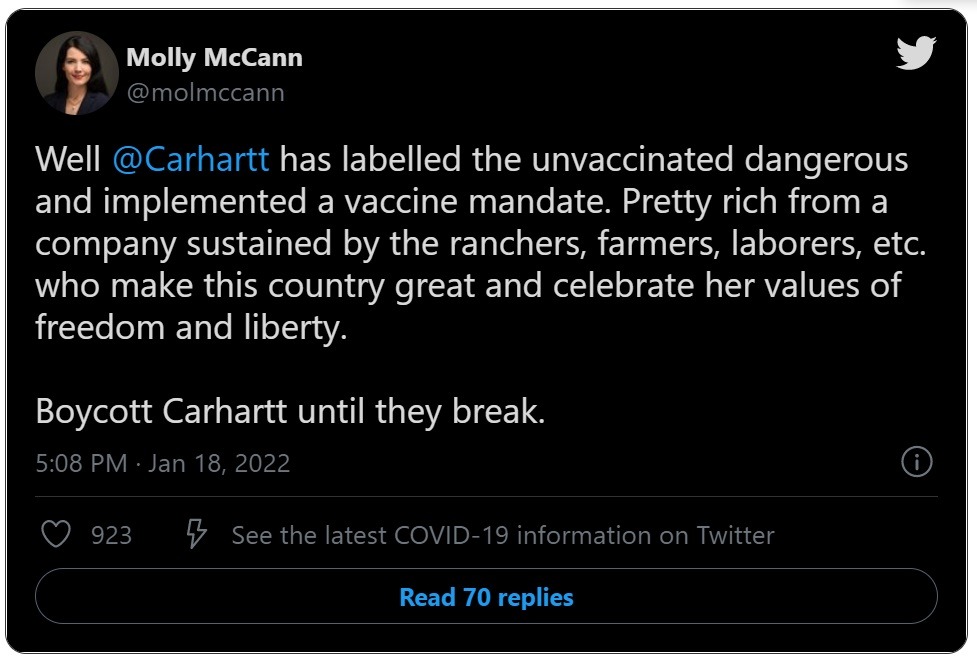 These were some reactions from people who found it funny that conservatives had to go against a company they love due to their shocking vaccine mandate.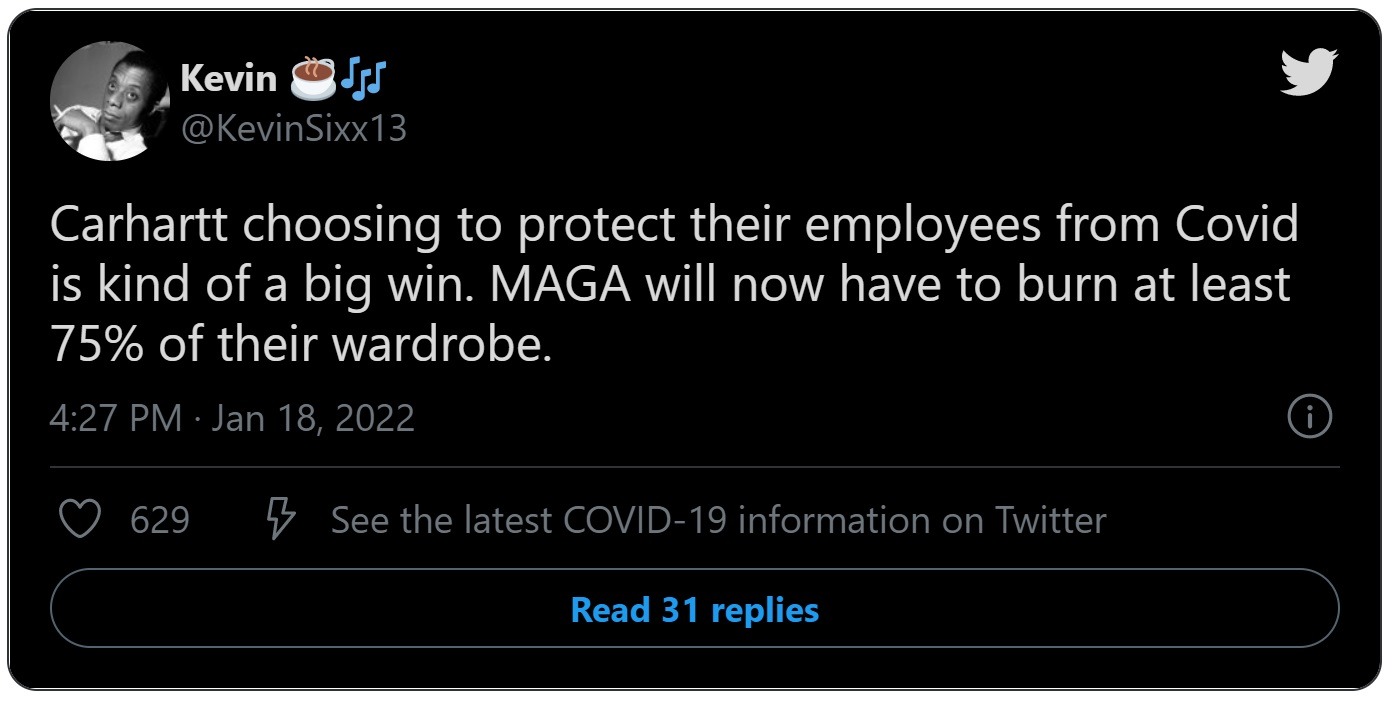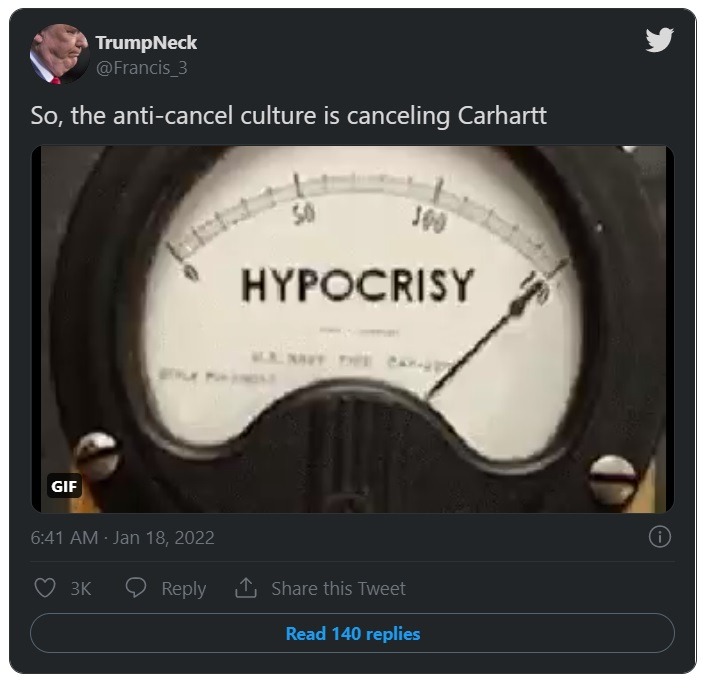 Every company has a right to make their own policies as they see fit, but there's just something strange about their reasoning behind their COVID vaccine mandate. How exactly does everyone being vaccinated make a workplace safer if the vaccines won't prevent the spread Omicron variant in anyway? A good example to compare this to is the Royal Caribbean cruise, which had a COVID outbreak despite everyone on the ship being vaccinated and testing negative before the cruise left shore. If you think of a cruise ship as a workplace it just shows how pointless a vaccine mandate would be unless a COVID vaccine is invented that actually stops transmission of the virus.
In reality vaccine mandates only give an illusion of safety that actually doesn't exist.