Recently five black Memphis police officers were fired following the death of Tyre Nichols, a Black man. The five officers have since been charged with murder, leading to a flurry of discussions on social media about the role of the Blue Lives Matter movement in the whole ordeal. Many have suggested that the group's quickness to defend white policemen accused of murder in the past, but complete silence in the current situation may be proof of racism.
Civil Rights Lawyer Qasim Rashid Reacts to Blue Lives Matter Staying Silent About 5 Black Cops Being Charged with Murdering Tyre Nichols
The death of Tyre Nichols has sparked a heated debate on Twitter. Qasim Rashid, Esq, a prominent civil rights lawyer, posted a tweet which read: "Every Black, brown, & white person who condemned the murder of Tamir Rice, Breonna Taylor, George Floyd, Eric Garner, Sandra Bland, Aiyana Jones, and more by white cops, now loudly condemn the murder of Tyre Nichols by Black cops. But suddenly 'Blue Lives Matter' crew is silent".
This tweet has been widely shared, leading to further conversations about the role and stance of the Blue Lives Matter group in the case. It has been suggested that the group's silence in the wake of the firing of the five black officers and subsequent second degree murder charges may be proof that they are biased and even a racist movement, given their tendency to strongly defend white policemen against accusations of murder in the past.
The death of Tyre Nichols has led to a discussion about the Blue Lives Matter group's ethics and motivations. Critics of the group have suggested that their silence regarding the death of Tyre Nichols could be an indication of their bias, and their willingness to overlook accusations of potential police misconduct if the officers involved aren't white.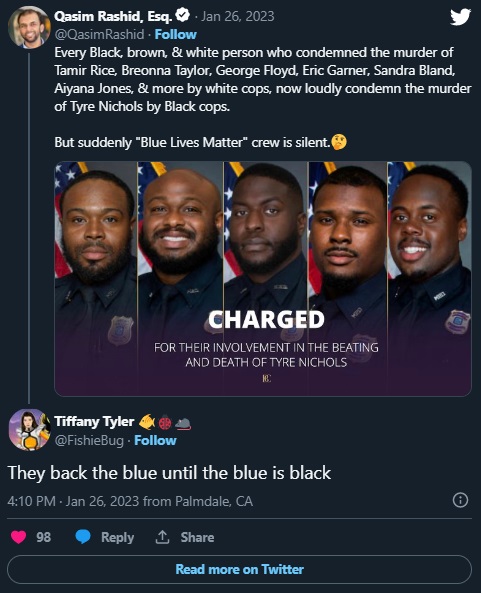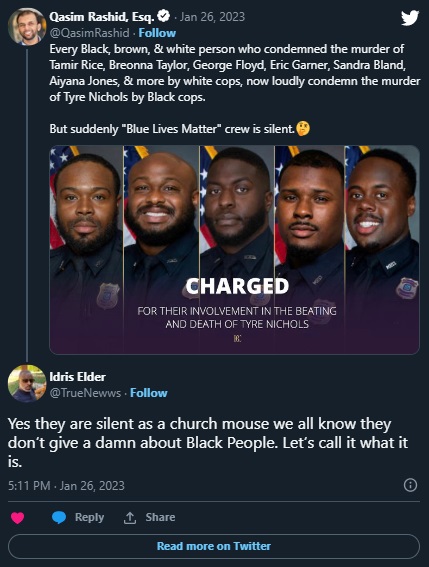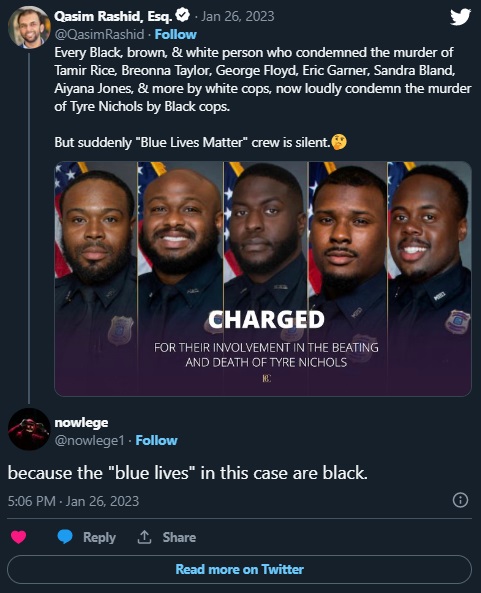 When Was the "Blue Lives Matter" Movement Started?
The Blue Lives Matter group is a pro-police organization that was founded in 2014 in response to the death of two NYPD officers who were killed in the line of duty. Its primary mission is to support law enforcement officers, and the families of fallen officers. It seems that many people feel their support doesn't extend to black police officers based on what has been witnessed so far.