The tragic death of Angel Mercado Ocasio, a 19-year-old college baseball player who was killed when a dugout collapsed on him, has shaken the city of Harrisburg, Pennsylvania. Mercado was volunteering with a youth baseball league on Monday night, when he and others were working on a wooden dugout in a city park. The structure suddenly collapsed, causing serious head injuries to Mercado and another volunteer.
Mercado was a freshman at Central Penn College, where he studied entrepreneurship and small business. He was also a member of the college's baseball team, and had a passion for the sport. His coach, Robert Stern, described him as "a fun-spirited student-athlete who loved the game of baseball."
Mercado's death has raised questions about the safety and maintenance of the city's parks and recreational facilities. According to CBS News, the dugout that collapsed was not approved by the city, and was built by volunteers without permits or inspections. The city's mayor, Wanda Williams, said that the park where the incident occurred had been neglected for years, and that there was no funding or staff to oversee it.
Williams said that she was devastated by Mercado's death, and that she was determined to improve the conditions of the city's parks. She said that she had ordered an immediate inspection of all the city's recreational facilities, and that she would seek federal and state assistance to upgrade them. She also said that she would work with the community to honor Mercado's memory and legacy.
Mercado's family and friends are mourning his loss, and have set up a GoFundMe page to help with his funeral and medical expenses. The page has raised over $14,000 so far, and has received messages of support and condolences from people who knew Mercado or were touched by his story.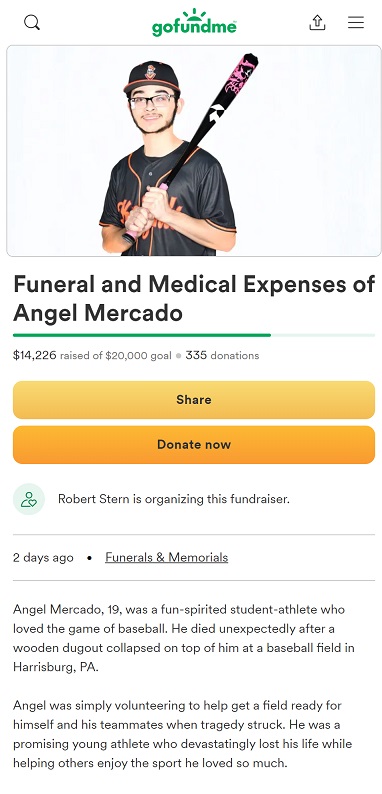 Mercado's death has also sparked a call for action from the local baseball community. The youth league that he was volunteering for, Harrisburg RBI (Reviving Baseball in Inner Cities), said that it would dedicate its upcoming season to Mercado, and that it would continue its mission of providing opportunities for young players in underserved areas.