Last week tragic news broke that 21 year old Mexican folk singer Yrma Lydia was shot and killed by her 79 year old husband Jesus Hernandez. At the time of his arrest the motive was unknown, and he allegedly tried bribing cops not to arrest him. Now new details have come out that could possibly be related to why the shooting happened.
Jesus Hernandez shot and killed Yrma Lydia as they were eating at a popular restaurant called "Suntory" in Mexico City. Reports state that he shot her three times with one bullet going through her head.
As aforementioned when police arrived Hernandez attempted bribing them with money, but ultimately he and his bodyguard Benjamin Juarez were arrested on the scene.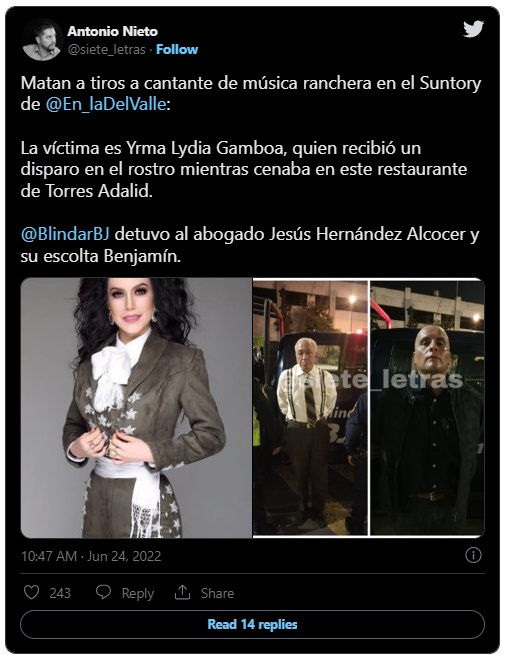 Jesus Hernandez Was Cheating on Yrma Lydia With a Stripper Before Shooting Her
According to information released this weekend before the shooting took place at the Suntory restaurant Yrma Lydia caught her husband Jesus Hernandez cheating with a dancer in his office. Some reports suggest that an argument started there, and continued at the restaurant.
The tweet below from reporter Antonio Nieto reads, "According to investigations by @FiscaliaCDMX and @SSC_CDMX, the murdered singer, Yrma Lydia discovered her partner, lawyer Jesús Hernández Alcocer, with a dancer in his office and that sparked their fight that ended with homicide at Suntory".
However, new information suggests there may be even more to this sad story.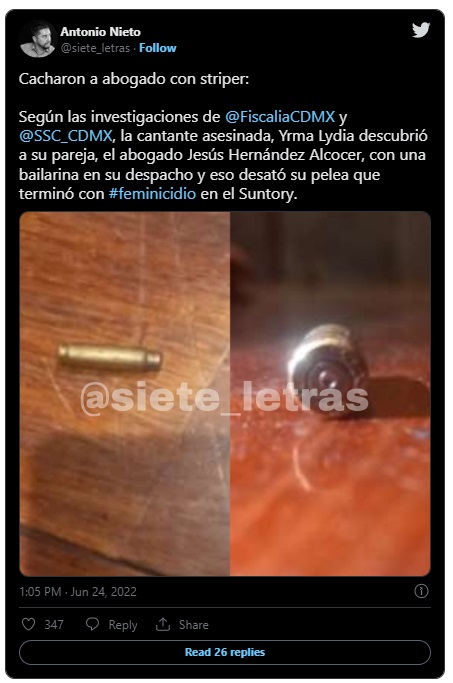 Is Yrma Lydia's Divorce Inquiry Connected to Her Murder?
According to the Mexican news outlet Excelsior, Yrma Lydia contacted lawyers in April seeking information about divorcing Jesus Hernandez. Reports state that Hernandez was abusing Yrma Lydia, and she provided lawyers with photo evidence of the bruises she suffered from the attacks. In addition back in 2021 she filed a police report against him for domestic abuse. Strangely they were able to reconcile, and continue with their marriage up until the shooting.
The tweet below from reporter Antonio Nieto reads, "Yrma Lydia denounced her alleged murderer for family violence: Last December, the singer started a folder in @FiscaliaCDMX for family violence against the lawyer Jesús Hernández Alcocer, arrested for homicide at Suntory".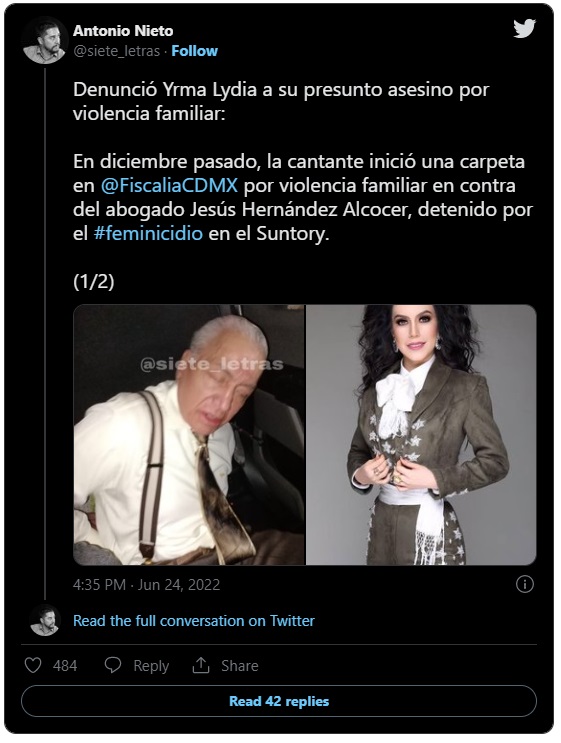 At the moment investigators don't seem to be sure if Jesus Hernandez murdered Yrma Lydia because she wanted a divorce at one point, or if it was completely related to the allegation that he was caught cheating. It just seems a bit strange that he shot his wife dead when it was him that was guilty of alleged infidelity. Something made Hernandez angry enough to take the life of his own wife in a public setting, which seems to convey he was in a state of extreme rage and wasn't thinking about the consequences of his actions.
RIP Yrma Lydia, she was only 21 years old at the time of her death.