These days Trey Songz doesn't make headlines because of his music, but rather due to his sketchy history of demeaning women. For example earlier this year a former college basketball athlete accused him of rape. Then there was the leaked video of him spitting in women's mouth. His trouble just got even worse as now another woman named Megan Johnson is accusing Trey Songz of sexual assault, and this time there is video evidence of the incident.
Was Trey Songz Caught on Video Sexually Assaulting Woman Named Megan Johnson at Foxwoods Casino Party?
The woman named Megan Johnson has hired a legal team to research the incident that took place at an event called "Foxwoods Liquid Sundays with Trey Songz" from back on August 25, 2013. It appears one theme of this event was women having their bare chests showing, but Trey Songz took things too far in the case of this woman.
According to video footage and court documents while the woman was taking a picture, Trey Songz pulled Megan Johnson's breast out her shirt, which exposed it to everyone at the party against her will. To make things worse he allegedly chanted 'T**ties out in the open' to make sure everyone noticed her bare chest was showing. At the time it happened the woman was seen laughing, but her lawyers claim she was actually very embarrassed and mentally disturbed, which was why she quickly covered herself up in the video. Below is a screenshot of the court documents of Megan Johnson's sexual assault lawsuit against Trey Songz.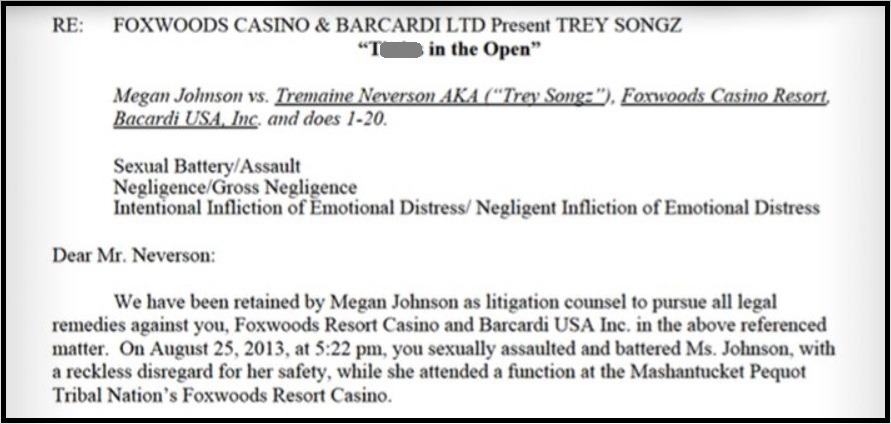 Here is the Trey Songz Megan Johnson video of the incident.
Social Media Reacts to Video of Trey Songz Sexually Assaulting Megan Johnson at Party
Social media reactions to Megan Johnson suing Trey Songz are not surprising. Due to his sketchy past and the video evidence most people already believe he is guilty in this case.
Is Megan Johnson Seeking Money from Trey Songz?
As with most sexual assault lawsuits against rich people there is a massive amount of money involved. According to the court documents Megan Johnson is suing Trey Songz for $5 Million. If he pays up she has agreed to drop the case. With video evidence of the incident it's going to be tough for Trey Songz's legal team to get him out of this one, so he probably is going to end up losing some money.
However, this incident happened in Connecticut, which has a three year statute of limitations window. A statute of limitations is a law that sets the maximum amount of time that someone can start legal proceedings from the original date the alleged incident happened. Since Trey Songz pulled out Megan Johnson's breast over 3 years ago her case might be thrown out anyway.