For most men making a suggestive comment towards a young girl would have career altering, or life changing consequences. However, through the years Joe Biden has been accused of doing just that, and still went on to become president. According to DailyMail in 2019 Joe Biden spoke directly about the criticisms of his sketchy actions towards young women during public events allegedly saying he "did not believe" his actions were ever out of line. His seemingly creepy ways reared their head once again when he was in California to give a speech at a community college, and decided to say something uncalled for to a young girl.
Secret Service Accused of Trying to Hide Joe Biden Making Young Girl Uncomfortable With Creepy Comment and Shoulder Rub after Irvine Valley College Speech Sparking More Pedophile Conspiracy Theories
On Friday Joe Biden was in Irvine California to give a speech at Irvine Valley College. His goal was to talk about his progress on reducing inflation and lowering the cost of prescription drugs. However, things went way left when Joe Biden went off topic, and decided it was appropriate to start giving relationship advice to a young teenage girl. There's a rumor that his secret service agents tried to stop cameras from recording while it was happening, but they were too late.
As you'll see in the strange video below Joe Biden grabbed the teen girl's shoulder, possibly sniffed her hair, and told her "no serious guys until you're 30". The young girl looked very uncomfortable as she seemed to nervously say, "I'll keep that in mind" in a shaky voice. Even her parents seemed shocked that Joe Biden really said that in public. Naturally the moment fueled more Joe Biden pedophile conspiracy theories.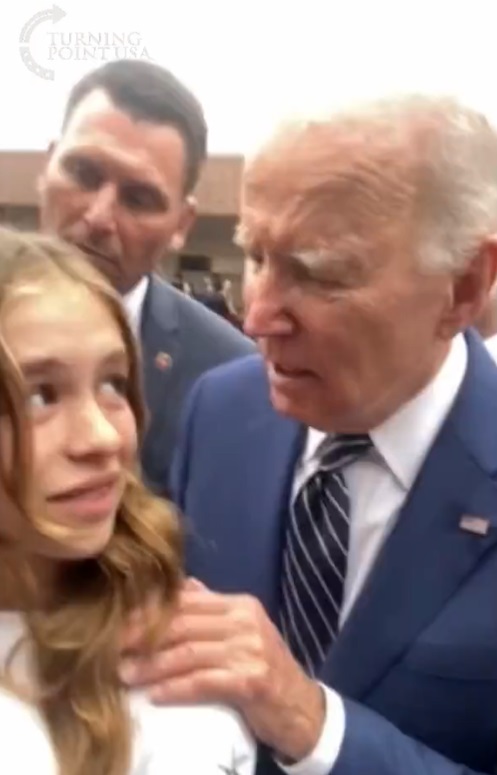 The man named Kalen D'Almeida who posted the footage claimed the Secret Service tried to stop him from recording Joe Biden making the young girl uncomfortable with his "no guys until you're 30 comment" and shoulder rub. Considering they allegedly tried to hide this incident from going public it might be safe to say even the secret service knows that Joe Biden's action towards young women appear very sketchy.
As aforementioned Joe Biden has a long history of incidents young girls in public in ways that many people would deem inappropriate, or at least very strange. Just take a look at this viral compilation video.
During the elections Joe Biden's history of strange behavior around young women was rarely talked about, and when it was many people overlooked it for some reason. Now after his actions at Irvine Valley Community College, it has become a viral topic of conversation again.
Is this proof that Joe Biden is a pedophile behind closed doors, or just a person who isn't aware of how uncomfortable his actions make young girls? Whatever the case may be it sure is strange, and very sketchy.