Kodak Black is trending for the craziest reason, that you have to basically see to believe. This crazy sequence went down during the Florida Panthers vs Vancouver Canucks Hockey game, which took place Tuesday night. Considering what went down it's quite shocking that he wasn't kicked out the arena. Essentially a Kodak Black $ex Tape was made on Live TV, and in front of thousands of fans.
Kodak Black Caught Smashing Woman in Crowd During Florida Panthers Game
A viral video taken by someone in the crowd during the Panthers game appears to show Kodak Black smashing woman who is bent over in front of him while everyone else was enjoying the game. To make things crazier Florida Panthers General Manager Bill Zito was sitting right next to him.
Kodak Black says he's the king of Florida, and this seems like something only a king could get away with.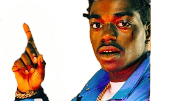 Now some people have a theory that the woman was only twerking on Kodak Black, but if you look closely it seems like his pants are down. This is basically a Kodak Black $ex Tape at a Florida Panthers game, as wild as that sounds. An absolutely legendarily inappropriately hilarious moment.
Prayers up for anyone who had their kids at that game.