Tekashi 6IX9INE has taken his trolling to new levels, as he is now beefing with dead rappers and their families. King Von's sister Kayla B threatened Tekashi 6IX9INE in response to him mentioning her grandson in the Zaza song.
Long story short Kayla B let Tekashi69 know it's on sight when they cross paths. She doesn't care what kind of FBI security he has with him.
Let's not forget that Tekashi 6IX9INE also posted this heinous message on Instagram taunting King Von for being murdered, "Somebody tell King Von join my live. I bet he won't".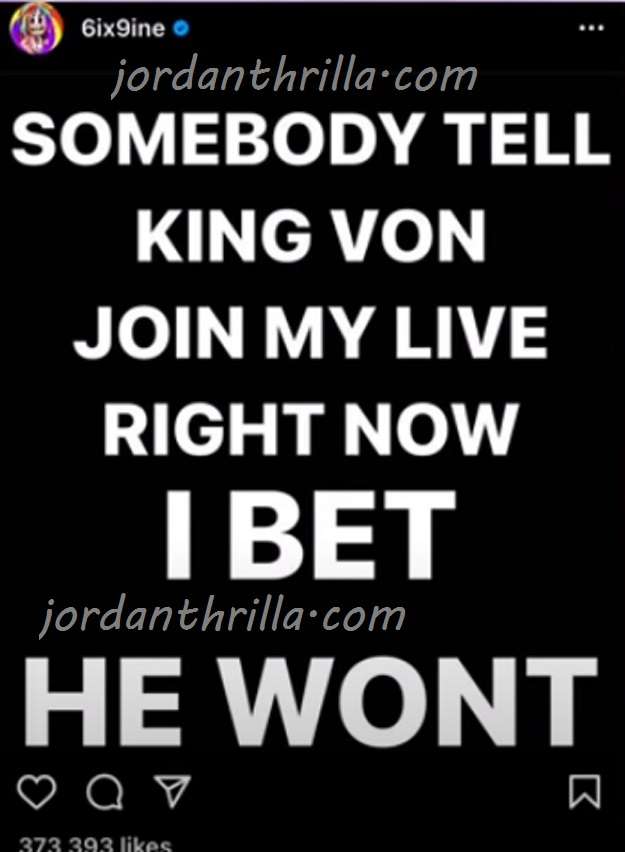 This sad part about all this is that Tekashi does all this unnecessary trolling just to attempt selling records, and still flops every time. He keeps disrespecting people's families and dead rappers, most likely thinking he can't be touched due to his FBI informant status.
However King Von's sister Kayla B is letting Tekashi 6IX9INE know that he will be touched eventually, which is a serious threat he shouldn't take lightly. Hopefully Tekashi69 comes to his senses and realizes constantly provoking people isn't going to save his career. His baby mama has already cried out on social media that he is putting his family's lives in danger with his antics.
Author: JordanThrilla