25 year old YNG Cheese was a rising rap star from Philadelphia, Pennsylvania. He is the son of Gillie Da Kid, a veteran rapper and podcast host who has been in the hip hop scene since the late 1990s. YNG Cheese started rapping at a young age, influenced by his father's music and lifestyle. He has released several singles and mixtapes, showcasing his lyrical skills and charisma. He is known for his catchy hooks, witty punchlines, and confident delivery. Sadly his life was taken last night.
Who Shot and Killed Gillie Da Kid's Son YNG Cheese?
According to NBC news the shooting happened around 8:30 pm on Mascher Street. YNG Cheese was shot once in his back, and died from his wounds. There were reportedly other people hurt in the shooting, but he was the only death reported. At the moment investigators claim there is no known motive, and have not made any arrests. The shooter is still at large, which has fueled many conspiracy theories on why Gillie Da Kid's son would be a target.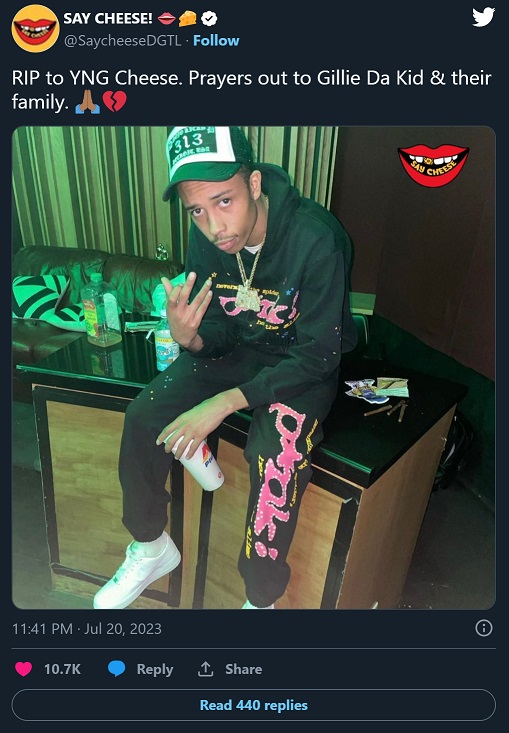 Wallo Reacts to YNG Cheese' Death
Wallo was very close with Gillie Da Kid's son, so to him this probably feels like he like he lost a son too. He reacted on Instagram with an emotional message saying, "Lil cuz usually when I talk to you I got a lot to tell you. Tonight the pain in my heart and tears spoke to you. I love you beyond life Cheese. I got your father rest well". You can feel the pain he was feeling while writing that.

Stephen Jackson Calls Out the People Who Killed YNG Cheese Then Edits Post
When it comes to tragic situations like these, there is no former NBA player who is more outspoken than Stephen Jackson. His reaction to YNG Cheese's death was also emotional, but he also sent a stern message to the shooter. In his IG post he wrote, "My dog I swear I hate these n*****. Prayers up for my dog, nobody should have to bury they child. I hate to hear my boy voice like that. I pray for strength for him and his family. Love You bro". He would later edit his post only leaving behind only the "love the bro", and removing the part about hating the shooter.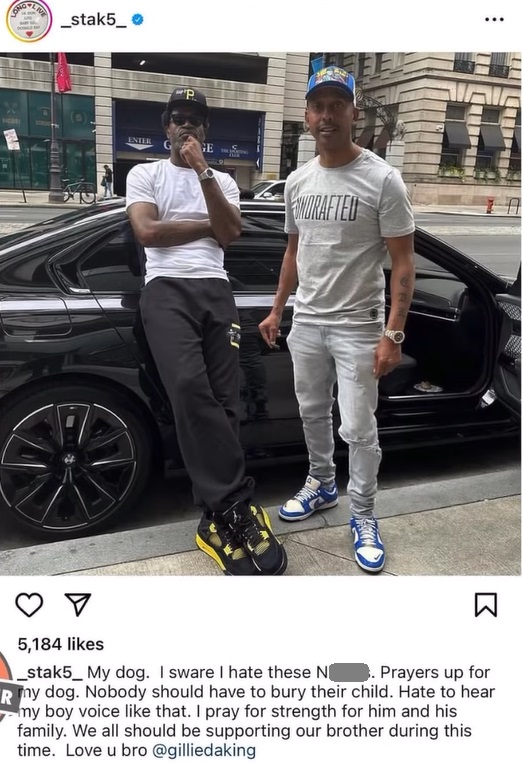 Below is the same post after he edited out the part saying he hates the shooter. It's not really clear why he changed his IG post, but perhaps he felt the original one had too much bad energy that could cause more issues down the line.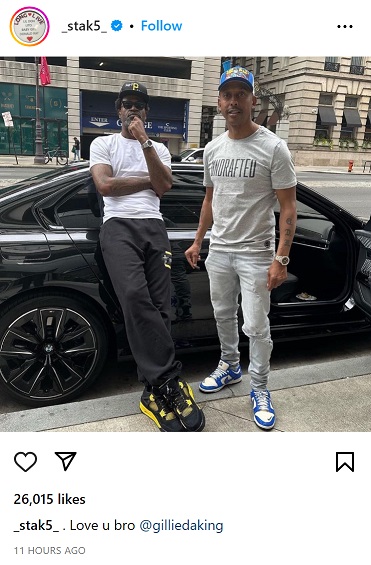 The general public has really never seen Gillie Da Kid have to handle a situation like this. Many people say there is no pain like the pain of losing a child. For most parents this is like the worst thing that could possibly happen.
Prayers up for Gillie Da Kid, and his family. RIP YNG Cheese.