If you are a fan of sports debate shows, you might have noticed people saying there is tension between Skip Bayless, Shannon Sharpe, and Stephen A. Smith on Twitter lately. People think the two former co-hosts of Undisputed on Fox Sports 1 have been exchanging subtle jabs over the rumor that Sharpe might join First Take on ESPN, the show that Bayless helped create and left in 2016. Here is how the rumor started, and why people think Bayless is reacting to it.
How the Shannon Sharpe to First Take Rumor Started
The rumor of Shannon Sharpe joining First Take with Stephen A. Smith started after Twitter user Legion Hoops posted a message on July 10 saying "Shannon Sharpe has talked to ESPN about joining the network, including First Take". Stephen Smith retweeted that tweet, and added a response of his own saying "Look for me on Friday folks. I'll be addressing all things I need to address back on the Stephen A. Smith podcast show on Friday".
Then Shannon Sharpe responded to the tweet saying "My daughter calls me and says, Daddy you're trending. Why am I trending? Or do I even want to know? Lottery officials aren't supposed to leak info". In a second tweet responding to Stephen A smith's tweet Shannon Sharpe said, "What you addressing on Friday? I've got some free time so feel free to facetime me before my meetings", which some people feel implies that Stephen A Smith knew that Shannon Sharpe had a meeting with ESPN about First Take.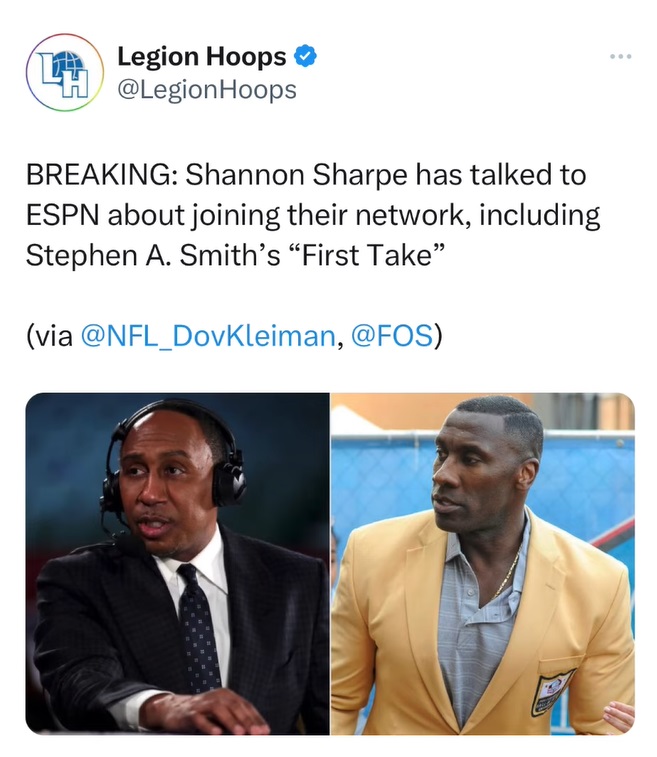 Why People Think Skip Bayless is Angry about Shannon Sharpe Joining First Take Possibly
While neither ESPN nor Sharpe have confirmed or denied the rumor, some fans think that Skip Bayless is not happy about it. They point to a series of tweets that Bayless posted over the past week, where he repeatedly mentioned First Take and how he created the show. On July 13, he tweeted "Here's is this week's 'Skip Bayless Show' as I share real stories on how First Take (the Undisputed) came to be, and how many times it came close to never happening".
Then a few days later he posted another tweet saying "Here's the video link of this weeks 'Skip Bayless Show' as I divulge some inside stories about how First Take (then Undisputed) came to be". Some fans think that these tweets are proof that Bayless is jealous or angry about Sharpe joining First Take, which is why he keeps tweeting about the show that he left 7 years ago. They also think that Bayless is trying to remind people of his role in creating the show, and how successful it was with him.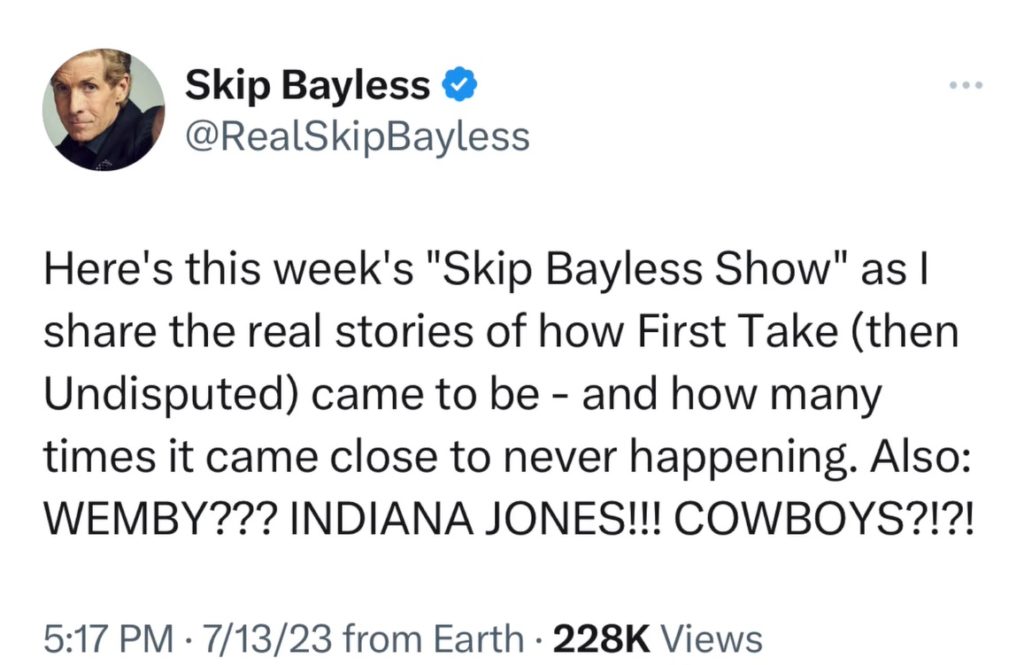 It remains to be seen if Shannon Sharpe will actually join First Take or not, and how Skip Bayless will react if he does. The two have been rivals on air for years, but they also have a mutual respect and friendship off camera. They have often praised each other's skills and achievements, and have shared some personal moments on their show.
However, if Sharpe does move to First Take, it could change the dynamics of their relationship and spark a new competition between them. Will they continue to be friends, or will they become enemies? From a business standpoint Undisputed and First Take a direct competitors who are fighting for the same fanbase. Undisputed could really become a forgotten show if things keep going down this path.